Posted by ben on 30 Jan 2008 at 02:24 pm | Tagged as: announcements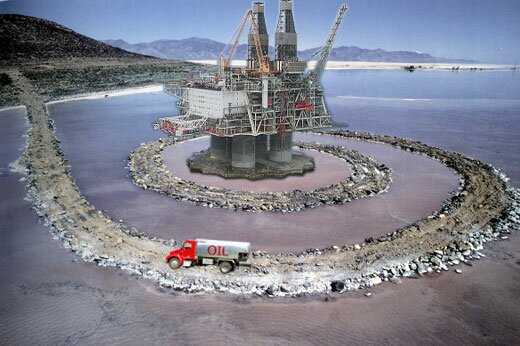 Forget about baby seals, now Big Oil is endangering the pristine ecosystem of the Spiral Jetty. MAN has more details. (NOTE: if you want to act on this, you have to do it this afternoon).
UPDATE: While I was having fun in Photoshop, Kriston Capps was actually doing research on where the proposed oil development would take place in relation to the Spiral Jetty. Please refer to his informative post on the drilling.
UPDATE 2: Yet more research by Michael Buitron reveals that the staging area will be about 50 miles from the Spiral Jetty. If the staging area is the only visible infrastructure, it's hard to see how this would be a big deal. And anyway, I'm sure there are bigger concerns than the aesthetic pleasures of the Smithson Pilgrims. Not to be flippant (I hope to be one of those pilgrims myself someday), but when I'm making my list of concerns about energy sources, the impact on modern art isn't in the #1 slot.
4 Responses to "Will someone please think of the Spiral Jetty?"



Haha! I love the picture. Too bad the drilling won't been seen from the Spiral Jetty site.
http://imoralist.blogspot.com/2008/01/sign-from-dia.html

After visiting the Jetty, I felt that Smithson chose the location because of the oil drilling jetty withing view. One was falling apart because of entropy, and Smithson's was a metaphor for entropy.




Hmmm… Kriston (in the post I linked to in the update) claims that the nearest drill will be within 2-3 miles of the SP, while you place the staging area 50 miles away. However, from what I read somewhere, the actually drilling locations will be totally underwater. So is the "staging area" the only visible infrastructure?




[...] The Spiral Jetty oil drilling story (broken by MAN) is picking up steam, with a little mention in the NYT, and a couple of hot-out-of-the-oven press releases. The Dia Foundation "adamantly opposes" the drilling, which it says would take place within 5 miles of Smithson's iconic land art masterpiece. The National Trust for Historic preservation has also entered the fray. I can't find a link to a press release from them, but the Trust's president Richard Moe is quoted as saying "The National Trust for Historic Preservation believes that Robert Smithson's Spiral Jetty on the Great Salt Lake is a significant cultural site from the recent past, merging art, the environment, and the landscape. We are deeply concerned about the potential harm that energy development could bring to the Spiral Jetty." [...]

on 24 Apr 2009 at 9:00 am #

Phyllis Lutjeans.




The double agent who fled Cyberia just in time
Leave a Reply