Posted by ben on 22 Feb 2008 at 11:17 am | Tagged as: image & sound
I'm going to start spending some time here discussing the mutual influence between music and visual art. Despite the supposed openness of the visual art world, these connections are still overlooked by too many of us. I plan to flesh out this intersection quite a bit in the coming weeks.
In 1952 John Cage composed a controversial work that has now become canonical, although it still arouses a great deal of suspicion among those who are inclined to think that starting in the second half of the 20th century, art became one big put-on. This piece, titled 4′33″, consists of four minutes and thirty three seconds of silence (here's a ). Unfortunately, many people associate John Cage so closely with 4′33″ that they don't know of any of his other compositions. I think some of these people might be inclined to take it more seriously if they were aware that this piece is part of a long career of very sincere exploration. In many ways, this composition is much more accessible than a lot of more "appealing" art, in the sense that it doesn't hide anything — the idea of the composition is right there on the surface.
But there is a bit of history to the work that belies its apparent simplicity. The idea came about as a result of Cage's Zen Buddhist practice (he was an original board member of the Zen Mountain Monastery near Woodstock, New York). Cage's first public discussion of the work comes in his 1948 book "A Composer's Confessions", where he says that he would like to "compose a piece of uninterrupted silence and sell it to the Muzak Co. It will be 4 [and a half] minutes long — these being the standard lengths of 'canned' music, and its title will be 'Silent Prayer'. It will open with a single idea which I will attempt to make as seductive as the color and shape or fragrance of a flower. The ending will approach imperceptibly." But it wasn't until four years later that he actually realized 4′33″. What happened in those four years?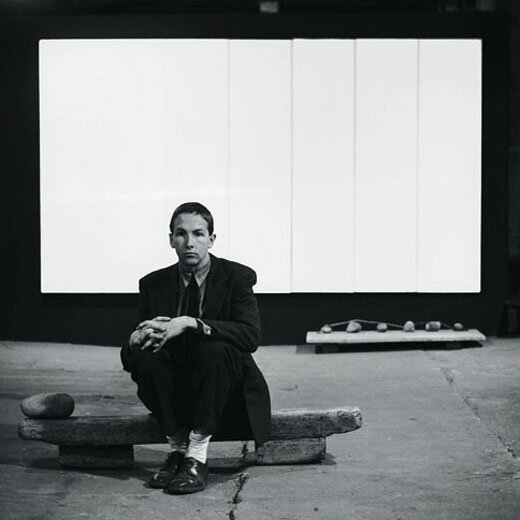 Robert Rauschenberg sits in front of his "White Paintings"
According to Cage, it was seeing Robert Rauschenberg's "White Paintings" that finally convinced him he had to move forward with 4′33″. These paintings consist of a uniform layer of white paint on canvases. In the words of Cage, these paintings "were airports for shadows and for dust, but you could also say that they were mirrors of the air." Similarly, Cage's 4′33″ is an airport for sound; a hub of perception. He realized that the space of a gallery, or a performance hall, is a cathedral for perception. Why not use this space to create an opening for heightened perception of life, of the present moment in general? Rauschenberg and Cage turn the compartmentalization of these art spaces against themselves by making the invisible background noise of life the focus of our attention.
8 Responses to "Image and Sound: Rauschenberg and Cage"
on 29 Feb 2008 at 12:07 pm #




…The Last Sitting

The next Rauschenberg
You could become a famous artist. Shop online. Blick Art Materials.




[...] In another attempt to explore the intersection of music and visual art (see also), I give you a rare Los Angeles Free Music Society CD, on which Paul McCarthy plays alongside fellow artists John Duncan and Tom Recchion, photographer Fredrik Nilsen, and noise pioneer Joe Potts (of Airways). Included with an edition of The Lowest Form of Music box set, this CD includes a 30-minute organ drone by Potts, a recording of a radio "event" by the BDR Ensemble (Michael Delle Donne-Bhennet, John Duncan, and Tom Recchion), and some indescribable weirdness from Extended Organ (Joe Potts, Fredrik Nilsen, Paul McCarthy, and Tom Recchion). I'm including a few notes on the recordings below. "3 CHANNEL CHORDS" was produced in an attempt to create an undulating mass of sound which seemed at first to be static drone while actually being a complex constantly mutating entity. The music was recorded in these separate takes on three tracks. Each track has sixteen channels of "CHOPPED OPTIGAN" run through a stereo mixer with the slide pots arranged to form a sine-wave pattern. Overt the course of thirty-plus minutes the sliders are constantly adjusted so that the sine pattern ripples across the mixer and then returns to the starting position. This formula is repeated on three separate channels, and then mixed down to stereo. I performed it and Rick Potts engineered it in his studio/living room. This recording marks the debut of the CHOPPED OPTIGAN. [...]

on 07 Apr 2008 at 9:37 am #




being the most abstract of all the art forms – to provoke a truly subjective response in each of its listeners.




"We need a program of psychosurgery and political control of our society. The purpose is physical control of the mind. Everyone who deviates from the given norm can be surgically mutilated.
"The individual may think that the most important reality is his own existence, but this is only his personal point of view. This lacks historical perspective.
"Man does not have the right to develop his own mind. This kind of liberal orientation has great appeal. We must electrically control the brain. Some day armies and generals will be controlled by electrical stimulation of the brain." Dr. Jose Delgado




I sold my record collection when I was a tween and haven't been able to build it up again since. Twice a year I buy a stack of CDs, get overwhelmed by existential nausea and give them to a charity shop. At the moment I'm listening to Ladyhawk, Santogold, Shy Child, Tegan and Sara, Hercules and Love Affair and the first Vanessa Paradis album. Guilty pleasure: Velvet Revolver's video for Fall to Pieces.




[...] { Robert Rauschenberg created his White Painting in the summer of 1951. In his radical reduction of content as well as in his conception of the works as a series of modular shaped geometric canvases, Rauschenberg can be seen as presaging Minimalism by a decade. | Robert Rauschenberg sits in front of his White Painting } [...]




leaving the audience to fend for themselves is risky business but an important precipice to jump from. both cage and rauschenberg seemed to be gurus in the art of reflection, instrospection and our piece in the bigger picture…essentially giving us the steps to behold a ladder.

on 07 Jan 2009 at 6:42 pm #




brightly lit and beautiful — but somber
Leave a Reply