Posted by ben on 27 Apr 2008 at 05:58 pm | Tagged as: ceramics, essays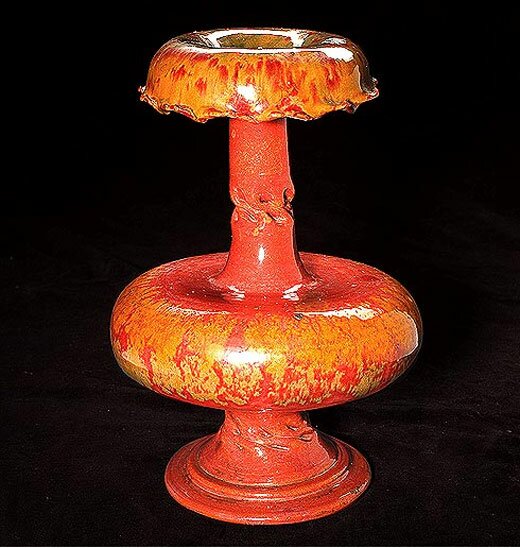 Fountain Vase by George Ohr (ca. 1895-1900)
This afternoon I was skimming over George Brecht's 1966 essay Chance Imagery; and as I was reading this essay which traces the use of chance techniques in painting back to Kandinsky in 1911, I was drinking water from a handmade porcelain cup given to me by local potter Brad Lum, with its drips of glaze flowing haphazardly down the side. It occurred to me that just around the time that painting began to embrace chance operations, they were being eliminated from ceramics as a result of industrialization. How odd, I thought, that the western artist saw fit to insert chance into a deterministic art form like painting, rather than embrace an essentially chance-based art form like ceramics. Perhaps it is no coincidence that George Ohr is considered by some to be a precursor to the Dada movement in America.
16 Responses to "A little thought"
on 27 Apr 2008 at 8:45 pm #




(dunwich jams)

on 28 Apr 2008 at 12:24 am #

The Apartment




for lucifer

on 28 Apr 2008 at 10:16 am #




Superman

on 29 Apr 2008 at 3:21 pm #

anywho




True… the frit he used was placed in a rather deterministic manner though frit does result in variegated results. Ironically the image you have served up is probably one of his more industrial based pieces. Looks to large for bench rollers – that is lathe work… the lathe alone to throw that is $10-20K.

HTH:)




anywho -

Thanks for your comment. You obviously know much more about ceramics than I. Yes, when I said that ceramics are essentially chance-based, I was talking about the glazes, although I know those can be controlled to some degree. But I feel that non-industrial potters are forced to embrace chance to a greater degree than painters.

I would be interested to hear more about how the forms of Ohr's other pots are less determined than this one. I've seen the pieces that kind of flop down, but hadn't considered whether that is a sort of chance operation.

on 29 Apr 2008 at 8:17 pm #




just like kicking jesus

on 29 Apr 2008 at 11:20 pm #

anywho




I do believe ceramics (as all the arts) is chance-based. To what degree the individuals incorporate chance into their work is another issue. The process of discovery is what drives us (we hope). Some look at 'pattern books' for glazes or forms they like and use them – completely arbitrary. Chance, (I know I am preaching to the quire), is akin to farming luck. It is like everything in life. The more we look for something the more likely we are to find it. It is what we don't anticipate finding which makes it so special when we do find 'it'- by accident. For many, this often evolves into an individual vocabulary. Some find sanctuary in this confinement and stop there – unwilling to break out of the box … again … and again…

With respect to glazes, today much of the chance lies within glaze tests. One could just as well use a ten minute tea pot. For larger pieces there is a lot to be said for having a more controlled approach to the discovery process. I watched Mark Hansen and Danville Chadbourne run tests on a dry ash glaze they were working on – the results were surreal. The final pieces did not fire out the exact same as the tests – so there a lot of chance and often times the unexpected are welcome surprises. In the case of Danville, he has so much work, his pieces are mostly compilations – if something doesn't match he puts it aside and then it eventually does… chance again – nothing wasted.

With respect to those mentioned above, my limited knowledge tells me that there are a multitude of factors which affect the final results of the firing process. Everything from temperature ramps, the chemistry of the other pieces in the kiln, oxidizing/reducing atmospheres, altitude?, who was watching the kiln, is the program askew… There is so much. Even if tests are done, the chemistry of the other tests may be responsible for a particular result.

I do see a lot of chance in Ohr's glazes and within form too. He appears to have made no accidents:) (I know that is not entirely true). Sometimes something doesn't go right (wrong) and we ask ourselves, what else may we do with this (how may I right it?). I found a form which he created which was very similar to the glass piece you posted.

http://webadmin.mississippi.com/sites/georgeohr/files/dir/07copya.jpg

This form is achieved via (in my mind) a slightly different process and yields a similar result. He has transposed this chance form from ceramics, evolved it into his vocabulary and then deconstructed it into glass. By disassociating the form from the giver of the form, the roots of the form become grow latent. Perhaps his clay hand simply revealed itself in the glass – negentropy, sublime, surd, chaos, irrational, (i), random, chance… all stellar.

on 30 Apr 2008 at 12:05 am #

anywho




OK – I humbly rescind… That is an incredible piece! Thought it was glass – puts glass to shame.

on 30 Apr 2008 at 7:05 am #

anywho




I do believe ceramics (as all the arts) is chance-based. To what degree the individuals incorporate chance into their work is another issue. The process of discovery is what drives us (we hope). Some look at 'pattern books' for glazes or forms they like and use them – completely arbitrary. Chance, (I know I am preaching to the quire), is akin to farming luck. It is like everything in life. The more we look for something the more likely we are to find it. It is what we don't anticipate finding which makes it so special when we do find 'it'- by accident. For many, this often evolves into an individual vocabulary. Some find sanctuary in this confinement and stop there – unwilling to break out of the box … again … and again…

With respect to glazes, today much of the chance lies within glaze tests. One could just as well use a ten minute tea pot. For larger pieces there is a lot to be said for having a more controlled approach to the discovery process. I watched Mark Hansen and Danville Chadbourne run tests on a dry ash glaze they were working on – the results were surreal. The final pieces did not fire out the exact same as the tests – so there a lot of chance and often times the unexpected are welcome surprises. In the case of Danville, he has so much work, his pieces are mostly compilations – if something doesn't match he puts it aside and then it eventually does… chance again – nothing wasted.

With respect to those mentioned above, my limited knowledge tells me that there are a multitude of factors which affect the final results of the firing process. Everything from temperature ramps, the chemistry of the other pieces in the kiln, oxidizing/reducing atmospheres, altitude?, who was watching the kiln, is the program askew… There is so much. Even if tests are done, the chemistry of the other tests may be responsible for a particular result.

I do see a lot of chance in Ohr's glazes and forms. He appears to have made no accidents:). Things doesn't go right (wrong) and we ask ourselves, what else may we do; how may we right it? From my very limited knowledge of his work, I would have to say the thinness of much of his work contributed to the discovery of the crumpling and folding of his pieces – to the degree where the accidents become the controllable intention.

That glaze work, to me, is very surreal and I do not feel that kind of work is as controllable as frit work with glass. However, even with glass, I was playing around with some powdered frits the other day and made some totally bizarre discoveries. And sure … everything has already been discovered … creativity knows to hide its sources. Chance within the discovery/rediscovery process is the crux of the biscuit(!).

Ben: thanks for posting the essay on Chance-Imagery … think I am going to sit back and lurk for a while – as opposed to drowning in my worthless dribble.

peace.

on 30 Apr 2008 at 12:59 pm #




Honour thy error as a hidden intention

on 09 May 2008 at 8:00 am #

Turned it off...




In The Gay Science (Die fröhliche Wissenschaft, 1882) Nietzshe refutes god but then makes arguments for 'eternal recurrence' – sounds disirreligious.

Strong words for a chaosotician – I guess it is ok if he contradicts himself. It would be unnatural for him not to; it simply justifies his and Derrida's position concerning the existence of objective truth.

on 09 May 2008 at 4:39 pm #




The ideas of radical groups will not work now, so we have to be careful about how much we romanticize 0b100101




[...] This cup inspired another Emvergeoning post a while [...]

on 22 Jul 2009 at 8:38 am #




Think of a situation as inexplicable as possible, then to stop up all the chinks with putty, and having satisfied myself that no explanation was possible, to make a further effort and find one

on 25 Jul 2009 at 9:59 am #




I think it would be fair to say that there are probably much greater differences between current Buddhist traditions than there are for example between Christian denominations. My point about emotional duality is that life is richer if we are prepared to take both sides of what is on offer rather than neither as many schools of Buddhism appear to suggest.

on 31 Oct 2009 at 3:14 pm #




::
Leave a Reply