Posted by justin on 06 Jun 2008 at 04:12 pm | Tagged as: acquisitions, announcements, art + bikes, art paparazzi, in yo face, public art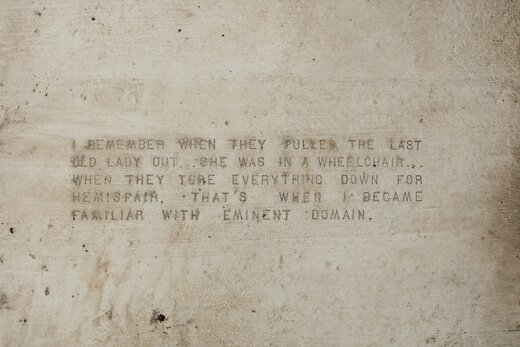 (photo by Justin Parr)
Anne Wallace's sidewalk stamping project, originally commissioned to her in 1999, is finally able to come to a close with the completion of Florida Streets new sidewalks all the way from 281 to S. St. Marys (San Antonio, Texas). The work includes a range of quotes from neighborhood people about their memories of the area, as well as images of traditional crops grown in the area, which was once the farmland for the Alamo. The corn, beans, frogs, hands, snakes, and text panels are totally worth a bike ride down Florida next time you are down this way.
9 Responses to "Anne Wallace sidewalk stamping project to come to a close this week."
on 08 Jun 2008 at 9:09 am #




Moisture is the essence of wetness, and wetness is the essence of beauty




Justin, thank you so much for taking the time to go out there and document this public art event. Anne's work ethic is truly indefatigable. We are looking forward to seeing her next film project once it's complete…See you in the backyard!!

on 09 Jun 2008 at 9:25 am #




What is it you are really trying to say?

on 10 Jun 2008 at 3:24 pm #




streams of Okeanos

on 11 Jun 2008 at 2:15 pm #




but replicas of masked dancers acting as "demoniac mediators between man and nature at the periodic festivals that accompany the annual harvests" (figure 75).

on 11 Jun 2008 at 10:49 pm #

lost...




While looking for clips of Char Miller's book "On the Border" I came across this recent interview from NPR

http://www.tpr.org/audio/asx.asp?news/08040402.wma

If I remember correctly, the premise of the eminent domain was temporarily for the Hemisfair and then for UTSA. Instead we have displaced communities, urban sprawl, fragmented campus(es), and a convention center.

on 12 Jun 2008 at 12:30 pm #




Sunshine Ward

on 15 Jun 2008 at 1:13 pm #




Sinfonia Punta Campanella

on 19 Jun 2008 at 2:22 pm #

bunny




if you go to 118 Florida street, you can buy the best bunuelos in town for five bucks, they even stamped the sidewalk with the bunuelo cookie cutter shape!!!
Leave a Reply