Posted by justin on 22 May 2009 at 04:55 pm | Tagged as: art paparazzi, possibilities, public art
A little collection of photos from our upcoming river reach expansion project here in San Antonio.  I was lucky to be able to go on the official tour with Ben a few weeks back and get a first-hand view of the unfinished project.  There has already been a lot of local press covering the new reach and a blog dedicated to it exclusively on Mysa.com, so we had been notably lax in trying to get our images up online.  We'll start with the under bridge panel installation by Stuart Allen.  Built of tightly woven metal strips painted in various colors, these panels slightly shimmer and change colors as the viewer walks past them, or floats underneath them by river barge.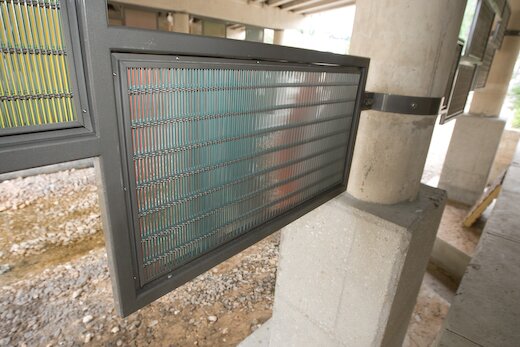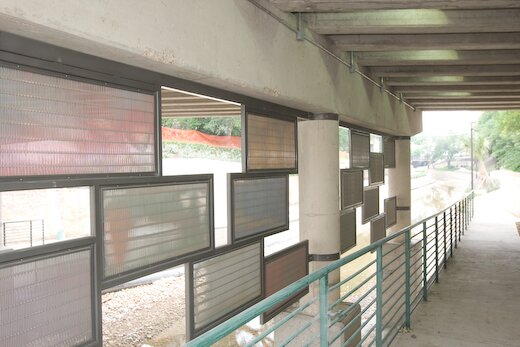 Next we have the already up and running installation by British artist Martin Richman.  Martin has covered the underside of the Lexington St bridge with hundreds of refractive dichroic glass panels.  These twinkle and twirl in the wind  and are constantly being lit by special lights along the underside of the bridge itself.  They throw off a spectacular array of shifting colors, and are seen in these photos prior to a mesh cover being installed to protect them from would-be thieves.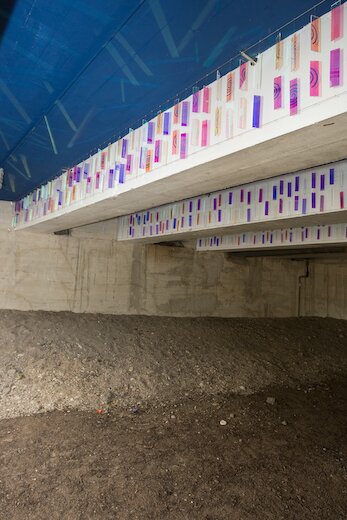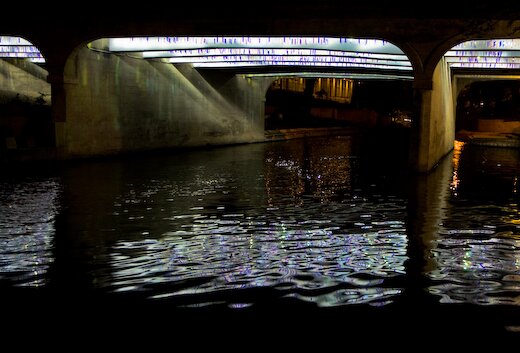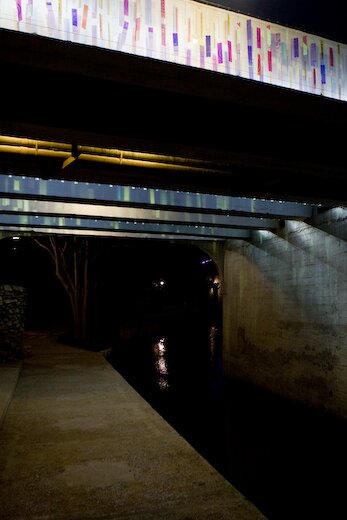 So, probably the biggest media splash made so far with this project has been Donald Lipskis school of sunfish, underneath I35 @ Camden st.  I managed to first catch the public art tour prior to their hanging, and have kept my eyes peeled on the highway ever since.  I've got a few photos here, some prior to them being lit, and some from the night of their official lighting.  I have yet to take a tripod and accurately capture them (ala the Mark Menjivar photo in this blog ) but I think you can get the idea.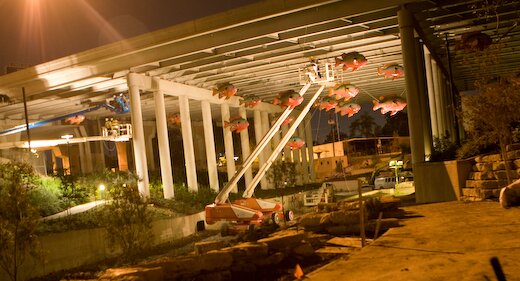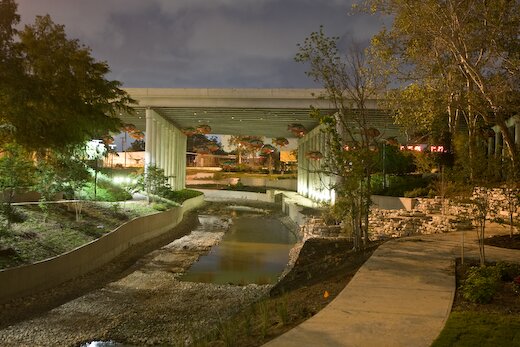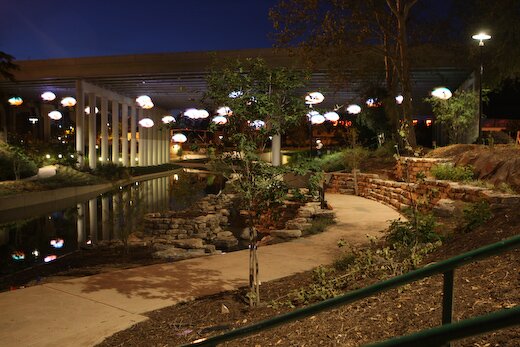 and of course I can't end this without mentioning one of my favorite parts of the new river expansion, the Carlos Cortes river grotto.  Not officially part of the same project as the bridge works, Carlos is creating a very amazing little world for visitors to wander through when they make it as far as Camden street.  Filled with mystery faces, dripping shells, and secret spyholes, the grotto is defenitely fun for all ages.  Aside from its alarming proximity to the very unattractive bunker/headquarters of the SA Bike Patrol, I look forward to spending several hours their at least one evening this summer.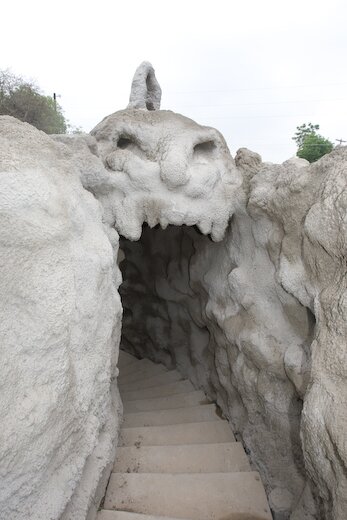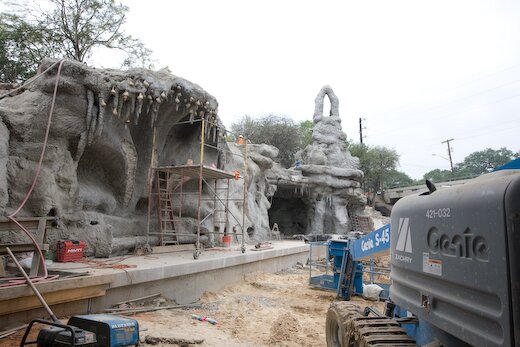 ..and last but far from least and having nothing (purposefully) to do with art, we are gettin our very own river barge Lock. Check it out.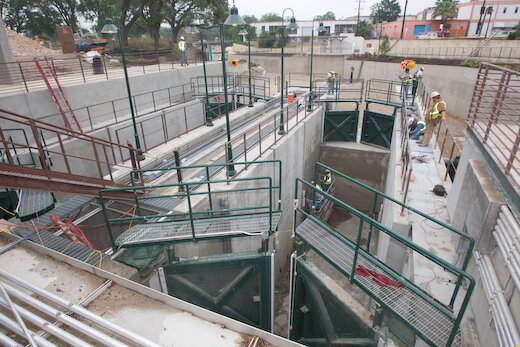 The expansion project officially opens next month, there is a lot more work under(and on top of) those bridges not pictured here.
15 Responses to "River Reach sneak peek"
on 24 May 2009 at 6:52 am #




DF: The Nazis showed us that anyone can make it into the history books.

JM: History is useless.

DF: What is useful?

JM: Nazis, duh!




спасибо за статью… добавил в ридер

on 25 May 2009 at 9:15 am #




I would that you were consecrated to me, she said sadly, but you need an earthly love, and you do not have enough faith in me besides. I could have protected you..

on 25 May 2009 at 9:34 am #




The artists are always the seers, they're always the people who figure stuff out before anybody else figures it out, and then it trickles down into culture. It's like, they want me to not do my job? That's what we're here for. We're here to say what we think… The whole "liberal media" thing makes me totally want to puke. I mean it's just despicable. A lot of times it's really anti-Semitic, it's like "The Jewish Liberal Media". I mean, what?!

on 25 May 2009 at 11:34 am #




During my tenure, beginning in 1999, at The Museum of Modern Art, New York, I co-founded and oversaw distance learning and Red Studio, a website for teens. Exploring challenging issues and questions provoked by engaging with modern and contemporary art




Ecolabel is a labelling system for consumer products (excluding foods and medicine) that are made in a fashion that avoids detrimental effects on the environment. Usually both the precautionary principle and the substitution principle are used when defining the rules for what products can be ecolabelled. Many (but not all) ecolabels are not directly connected to the firms that manufacture or sell the ecolabelled products. Just as for the quality assurance labelling systems it is of imperative importance that the labelling entity is clearly divided from and independent of the manufacturers. All ecolabelling is voluntary, meaning that they are not mandatory by law.




Addendum

on 26 May 2009 at 1:53 pm #

Colonel D. Williams (Ret.)




Any chance those panels by Stuart Allen don't get immediately defaced with crappy graffiti by some young retard who didn't get enough attention from mommy? Yeah, I didn't think so either. I'll do my best to enforce an unofficial "adults only" lockdown on the River Walk north, but with my wheelchair low on batteries I probably won't be of much use.

on 26 May 2009 at 9:58 pm #




I probably won't be of much use.

on 26 May 2009 at 10:27 pm #




nah

on 29 May 2009 at 12:43 pm #

Colonel D. Williams (Ret.)




I think the aforementioned kids have have hacked onto this site and tried to impersonate the good Colonel. My grandson assures me this is some sort of "post-modern identity politics" thing. In my day we called it wise cracking and you'd get your ass kicked behind the playground. If the Colonel must takes these arrows so that the streets are safe at night, then so be it. Unfortunately, the internets as a whole must suffer from this thuggish behavior, but I suppose we have to pick our battles.




[...] Emvergeoning – River Reach sneak peek [...]

on 05 Jun 2009 at 6:56 am #

Colonel D. Williams (Ret.)




another sounds

its own wide rush. Occasional bright orange flowers popping up.

on 05 Jun 2009 at 9:07 am #




i havent been watching you long, but ya seem real enough to me, dont listen to the haters you're great the way ya are! ;)

on 05 Jun 2009 at 10:30 am #




☲ ☷

Spade Cooley was "King of Western Swing" until a gruesome incident.
Leave a Reply