Posted by justin on 31 May 2009 at 01:31 am | Tagged as: acquisitions, adventure day, announcements, art + bikes, art paparazzi, borders, opportunities, possibilities
*update (june 08, 09) I ran into Daniel again and he is now claiming that the bikes will be temporarily displayed throughout the city, and locked in place.  He will be showing them soon as an entire group.
Be on the lookout, local artist Daniel Saldana, known most prominently in our community for his unfathomably plated metal objects, has taken to turning his excess metal into art bicycles, and leaving them about town.  I've seen them left up at SAMA, and Blue Star now, both times without a camera on my person.  I caught him at Red Dot with his newest creation, this time, chained to the pole outside.  Previous bikes were left to be picked up by lucky takers, and ostensibly this new one, I was told was "not finished," and would be given a similar fate after completion.  If you have other images of these art bikes in their native habitat, give em up, via our contact form.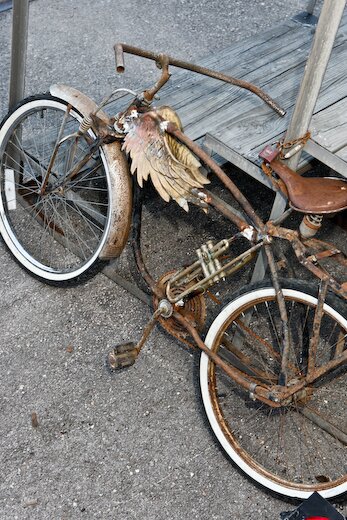 22 Responses to "Mysteries of San Antonio Street Art : Bikes?"
on 31 May 2009 at 6:31 pm #

Colonel D. Williams (Ret.)




The Colonel just saw it over at SAMA. And it has a horn on the front now.

on 05 Jun 2009 at 7:20 am #

Colonel D. Williams (Ret.)




doing my workout outdoors completely recharges my battery.

on 05 Jun 2009 at 5:24 pm #




or just the common form: a lie.

on 07 Jun 2009 at 7:15 pm #

Beto




I just talked to Daniel and there ARE two art bikes that will be given away to the first two people that respond to this thread.

AKKAD, he told me that he has one for you. Name a location in San Antonio and he'll drop one off for you. Daniel is not a liar.

I just saw them. They are really pieces of art.

on 08 Jun 2009 at 12:31 am #




A Trade?

"They are really pieces of art."

I know

on 08 Jun 2009 at 12:36 am #




BIKER.

on 08 Jun 2009 at 2:03 pm #

Mary




Daniel Saldana is an exciting artist and a wild man in every sense of the word!

Mary

on 08 Jun 2009 at 2:05 pm #

Mary




Daniel is an exciting artist and a wild man in every sense of the word!

Mary

on 08 Jun 2009 at 11:19 pm #




is on black plexiglas, not mirror.

on 08 Jun 2009 at 11:23 pm #




From roaming about on the earth and walking around on it.




i want a bike. are they all gone?

on 10 Jun 2009 at 12:15 pm #

Lito




I saw one at SAMA the first Tuesday of May (was on my way there for the free sketching sessions). There are now 2 tricycles at SAMA. We were all wondering where they came from.

Thanks for the post. Also, since recently moving to San Antonio, it's good to find a resource like this site for all things SArt.




thanks for calling Daniel! i want the trike on the left as you look at the museum. the one with the license plate and the egg beatery hood ornament. it's awesome.

also, i will help you protect the pieces from bike cops! ask me how :)

on 11 Jun 2009 at 11:05 am #

Giselle




Lucky ME!!

I saw one this morning on the steps of Blue Star Contemporary Art Center.
I walked by and thought, that is just the coolest thing.
There's a secret though!
So you got to figure it out and claim this awesome gift for your self.
My little Street Art Bike is sitting I'm my office for everyone to admire!

Keep your eyes peeled!

-G

on 12 Jun 2009 at 4:16 pm #

Lizita




Hear Ye Hear Ye….
There will be tres mas bicicletas gratis con llaves escondidas… first come first serve. Keep your eyes wide open @ Mosaic next to the Blue Star Gallery, Flight Gallery and the Blue Star Brewery. Sat only, don't miss it.

on 12 Jun 2009 at 9:22 pm #

Monica O!




i want an art bike….

:(




Daniel is a cool dude. I met him in the parking lot at 1906 and he helped me with directions to Hung Fong! Yum!

I'd like to get in touch with Daniel about doing something with my co-op/studio/gallery in San Marcos = F8TL Studios.

Love the art bikes and San Marcos is a BIG bike town!!

come see us!




Daniel is such a great guy…. Met him at the MSG show where he selflessly took some fantastic photos for us. Rock on!




[...] show opening tonight at Blue Star. For more background, see Saldaña's bikes here and here, and the Current article by Elaine Wolff. Daniel Saldaña standing with his newest art [...]




Recently I stumbled across this blog and have been reading along quietly. I decided I could leave my first comment. Im not sure what to say but that I have loved reading. Nice blog. I shall carry on coming to this website very often. I have also subscribed to your feed to get any updates.




Leaving art bikes around town>> Hope someone in my city also starts doing that!! Or Daniel, do you have any plans to shift to Seattle? And did Akkad get his bike? Don't put us in suspense, man!

on 22 Mar 2010 at 2:11 pm #




Don't neglect to geotag your posts in future so we could find you on a map.
Leave a Reply