Posted by ben on 27 Apr 2007 at 10:40 am | Tagged as: interviews, music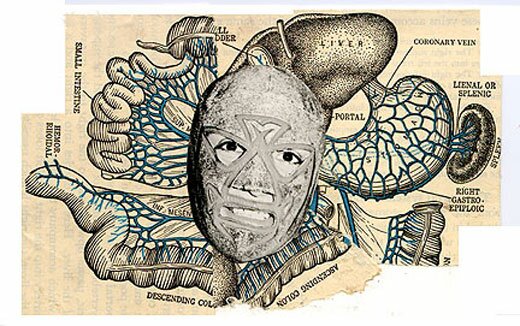 You all know Mark Mothersbaugh for his role in the founding of DEVO, for his work on various soundtracks (including the Pee-wee Herman Show, Rushmore, The Rugrats, and even Revenge of the Nerds II, among others). Although he is less known for his visual art, he has been steadily producing work in this area for decades; in fact, it was while studying art at Kent State that he formed DEVO, partly in response to the Kent State shootings. His work draws on ideas pioneered by the Fluxus movement, with its mixture of whimsy and starkness. Mothersbaugh's "Postcard Diaries" will be opening at FL!GHT Gallery on May 12, alongside an installation by Sarah Higgins at Salon Mijangos, new work by Kelly Pierce at One9Zero6 Gallery, and music by Hyperbubble and others. He recently agreed to do an email interview with me:
Emevergeoning: When did you start working on your Postcard Diaries?
Mark Mothersbaugh: Early 1970's – I used to mail them out to other people who would mail me postcards… including other mail artists. I tried to sell a few of them via little classified ads in Rolling Stone magazine.
Emv: Were you influenced by or involved with other artists working in Mail Art?
MM: Yes. Robert Indiana – Irene Dogmatic – Image Bank – Ant Farm
Emv: What made you decide to start showing this work in galleries?
MM: I was showing artwork in galleries before DEVO… and my first solo show was in 1974 in Ohio. Most people don't know that I've always been a visual artist… before I was a musician with DEVO… so it always made sense for me to show my art publicly… but the number and frequency of my solo shows definitely increased in 2003.
Emv: Was there a particular gallery or dealer who approached you?
MM: No… It was my friend Michael Pilmer who was working with DEVO at the time… and we talked about setting up a series of shows. We started by looking in Juxtapoz magazine to get info on all the current hip/small spaces in the USA.
Emv: Why did you decide to show prints of the Postcard Diaries rather than the original pieces?
MM: I started keeping the original drawings when I realized that I was documenting my own life here on Planet Earth. My first tour in 2003 was called Homefront Invasion!, and was titled that because, for me, it was all about getting my work into people's homes. Selling affordable limited edition prints gets me into more homes to than if I sold higher priced original works.
Emv: What has your experience been of the transition between working as a musician and working as visual artist?
MM: It's always been blurred. When we first started DEVO, we were a clearing house for sound & vision ideas… and not a music band. That's why we did films, etc.
Emv: Do you find either medium more satisfying than the other?
MM: No. They both worked together.
Emv: Do you enjoy working the gallery circuit better than the club circuit?
MM: Both are completely different experiences, really…. But they both eventually end up smelling like beer. I like galleries better because I don't have to carry anything.
Emv: In discussing your Beautiful Mutants series, you compare people to potatoes several times. DEVO also used this image in song lyrics and videos. Can you discuss the meaning of the potato in your work?
MM: We developed our own vocabulary back in Akron in the early '70s, and that was due to the fact that we couldn't afford drugs, and none of us liked to bowl, and none of us owned a van. So we had to entertain ourselves in other ways. We came up with our own terms for things, and "spud" was one of those. "Spud" was kind of like "comrade", but it could also be used pejoratively—you know, we're both comrades here, "that's a good spud," or it could be used "that stupid spud." Spuds are rough and grow underground, but they had eyes all around so they saw everything that was going on.
Emv: In some other interviews, you have expressed disappointment about the development of music videos as commercials for albums, rather than as a new form of art. In retrospect, do you feel that DEVO's goals could have been better served by trying to work within the art world rather than getting involved with MTV? Or is it all the same bullshit in the end?
MM: It doesn't matter because you're working with humans in both situations.
Emv: DEVO was born out of pretty serious social and political concerns. Do you see your new artwork as a continuation of these ideas?
MM: Yes. Permeations on a theme…which were stated when DEVO were young, angry men.
Emv: How has your thinking about our social situation changed since the mid-70s?
MM: I think things are worse than I thought they were back then. More optimistic in the 70s… hoping DEVO was wrong.
Emv: How does your more commercial work relate to these ideas?
MM: You try to spread the good word in whatever way is possible. Using whatever media you have at your disposal.
Emv: Do you feel that your compositions for television and film are part of your larger body of work, or do you just see them as side projects without much sociopolitical meaning? (Are there hidden messages??)
MM: I think TV has an advantage in some ways because it's perceived as innocuous, in the camp of the enemy… so you have the opportunity to insert hidden meanings or poo-poo bombs.
Emv: Has Brian Eno ever stolen any of your ideas?
MM: Are you calling Brian Eno an intellectual property thief? I don't see that with him. I think he's a pretty original composer/artist. You just didn't pick the right name.
Emv: Are you now, or have you ever been, a minister in the Church of the SubGenius?
MM: I was once a prophylactic BOB at a Devival some years ago.
3 Responses to "In Which Mark Mothersbaugh Defends the Honor of Brian Eno"
on 27 Apr 2007 at 6:03 pm #

michelle




Quoting EMV: "Can you discuss the meaning of the potato in your work?"
Perhaps this is an unparalleled interview question. It's dubious that anyone will ever ask this of another human being again. Well, no. I rescind this observation. Someone at ARt Basel will surely be asking someone else this very question about tubers in contemporary art.funny funny interview, thanks ben!!




kaw-liga!

on 24 Mar 2008 at 5:27 pm #




Eine Frau in Berlin
Leave a Reply