Posted by ben on 14 Jun 2007 at 09:46 am | Tagged as: art paparazzi
During the whole Paris Hilton jail saga (which is maybe a little unfair after all…), I saw this photo by Nick Ut which really made an impression on me as a powerful image: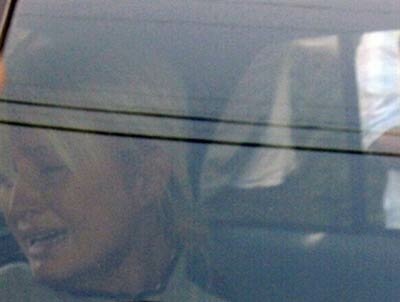 As it turns out, this guy has taken some notable photos in the past — including this one from the Vietnam war. One of Andrew Sullivan's readers notes that the two photos were taken 35 years apart to the day. Amazing.
6 Responses to "Fiddling While Paris Cries"
on 14 Jun 2007 at 6:34 pm #

michelle




it's a bit repulsive to compare a girl running with burning napalmed flesh and this vapid, fatuous, privileged American jerk. come on ben, so the photographer is the same, i don't see why that's important. are you saying this is the face of human suffering, i think the gravitas in the midst of Vietnam warrants its own category. why is paris crying? because she will miss happy hour with lindsay lohan and a photo shoot for Rolling Stone. why is the girl in Vietnam crying? maybe because she's just been deafened by a bomb and her skin is sloughing off… why are we paying attention to this celebrity? let's just cover anna nicole and lindsay's binge boozing while we're at it.




wow, funny thing is — i didn't actually compare the images, much less the context of the images. my interest in the paris picture is purely formal; i just think it's a strong photo. the picture of the girl from the vietnam war is both formally strong and has political and cultural ramifications (which is why he won a pulitzer for it). i guess i should have been more clear about the fact that the photo of paris didn't make me care any more or less about her story — i just think the image is beautiful for what it is. but i guess everything is context these days, huh?

but it amazes me to think about this photographer's life. because for me, the disparity between these photos doesn't illustrate anything about society at large. it's about the power of photography to encapsulate moments. and it's about the fact that this photographer, whether he's a 19-year-old AP photographer capturing an image that would come to symbolize a whole war, or a 56-year-old AP photographer snapping paparazzi shots, is actually producing powerful images. i think there's a kind of quiet ethic about that. to me, it doesn't damage his integrity at all that he's in LA documenting paris hilton. because he's still a great photographer. (i might be overselling him a bit; i'm not familiar with his other work)




ok, now i'm more familiar with his work. this little slideshow actually does put his photos of the vietnam war alongside his celebrity shots in LA. and it may be repulsive in some ways to put those photos side by side, but i think nick ut's ability to approach each of these moments with such sincerity binds them together as a single, powerful body of work.




I think the image of Hilton is an important one. It invokes emotion as do many of the photos that Ut captures. His images are classic and enduring snapshots of American history.

My two cents.




[...] Back in June I noted that Nick Ut had taken the photo of Paris Hilton (above, right) exactly 35 years after the photo of Kim Phuc (above, left), to the day. Today I came across an article in the Telegraph (via Conscientious) which quotes Nick Ut comparing his relationship to the two photos: It's a strange feeling because I know I will never take another photograph that's as good as this – not as long as I live. When I look at my photograph of Kim and my photograph of Paris Hilton, I think they are both good pictures, in their way. I suppose the big difference is that I grew to love Kim, whereas… well, frankly, I don't give a damn about Paris Hilton. [...]

on 03 Aug 2009 at 9:03 am #




Indu as, Indra's Friend, on us pour with a stream of sweetness, like
Parjanya sender of the rain.
Leave a Reply