Posted by ben on 26 Nov 2007 at 10:30 pm | Tagged as: acquisitions, borders, upcoming events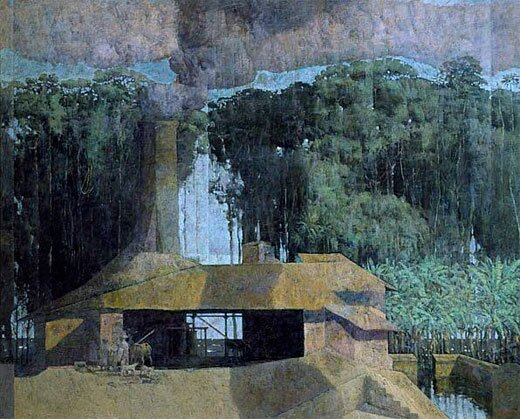 The San Antonio Museum of Art recently acquired this Armando Morales painting called Trapiche (Moulin a Sucre) (although the museum seems to be referring to it by the English translation of the title, The Sugar Mill). This 1991 oil on canvas showed up in a Sotheby's auction in 2003, and this was their description:
In Trapiche (Moulin a Sucre) Armando Morales seems to break with his own tradition of presenting the jungle as timeless and dislocated. In fact the painting belongs to a series executed between 1991-92 based on sketches of buildings on the border between the natural and civilized worlds. As in other paintings in the series, Morales forces the viewer to cross these boundary lines through a series of intersecting axes: the unexpected break in the forest wall that permits a view through to the open sea and distant horizon; the plume that rises from the sugar mill's chimney to join the clouds that form a second skyline; and of course, the elongated tree trunks that terminated in a billowing foliated canopy.
On Thursday, November 29, Marion Oettinger (SAMA's curator of Latin American Art) will read from a Gabriel Garcia Marquez essay on Morales to celebrate the acquisition. The reading will start at 6 pm, and is free to the public.
2 Responses to "SAMA Acquisition: Armando Morales"
on 28 Nov 2007 at 3:23 pm #

LOVE




on 17 Apr 2010 at 1:47 am #




Portrait Artist – Free Shipping – Free Frame Of Your Choice !
Leave a Reply