Posted by justin on 05 Dec 2007 at 02:14 am | Tagged as: art paparazzi, in yo face, possibilities, rumors, sneak peeks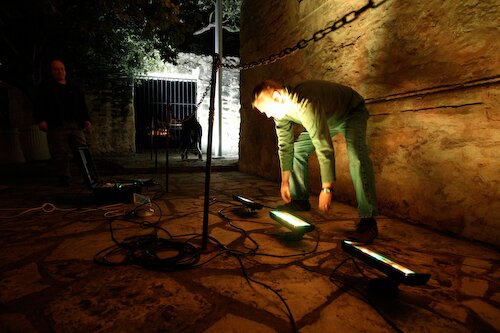 Bill Fitzgibbons (not pictured above) was seen directing the prologue to a rumored Luminaria Arts Night installation today at nightfall.
11 Responses to "sneak peak – the alamo in LED's? ..possible Luminaria Arts Night project?"
on 05 Dec 2007 at 6:15 am #

hungry.




on 05 Dec 2007 at 12:42 pm #

Mary




Looks great!!




Just noticed this is now listed on the official Luminaria site(does that mean confirmation? mum was the word last night).. wanted to point out that bigger versions of the alamo image are now available on my Flickr Site.

Click on the image below for more.

on 05 Dec 2007 at 4:42 pm #

hungry.




apparently, all the emvergeoning traffic has choked their servers.




Libby Tilley and Bill confirmed today that this is a Luminaria project, provided Bill can get sponsorship from the LED company. Which supports my theory that the way you apply to be part of Luminaria is to get secret curator Justin Parr to leak your project on emvergeoning.

on 19 Dec 2007 at 9:11 am #

Chad




Why is the only "early"/"leaked" confirmed artist in the Luminaria project also on the board?

on 23 Jan 2008 at 9:18 pm #

L




why are they only offering $200 for the artist honorarium




I think there is more for infrastructure costs , if your proposal allowed for them… but we'll have to wait and see.




there was not alot of information. You have alot to put on this website. So if you will put something about who led how many people where led to the Alamo and who and from where.Thanks!




Kelly,

I'm not sure that I follow you..

on 15 Apr 2009 at 9:14 am #




The topic is quite hot in the net right now. What do you pay the most attention to while choosing what to write about?
Leave a Reply