Posted by ben on 31 Jan 2008 at 12:33 pm | Tagged as: adventure day, art paparazzi, arts organizations, celebrity sightings, interviews, outsider
A little while back we did a series of posts on publicly accessible outsider artwork in San Antonio. One of the artists we covered was the Rev. Seymour Perkins, a controversial figure who lives on the east side of town. While others argue over whether he harbors drugs and prostitutes, and his lawyer battles with the city over the fate of his home, we here at Emvergeoning decided to take another peak at the work that isn't so publicly accessible — the work inside his home. As Rev. Perkins gave us the tour I tried to absorb all the details, while Justin Parr snapped shot after shot of the inner sanctuary. From what I was able to gather, Seymour Perkins' daughter, Debbie Jo Christi, was killed in a drug-related conflict on February 22, 1994. Here is a drawing on one of the walls that depicts her murder: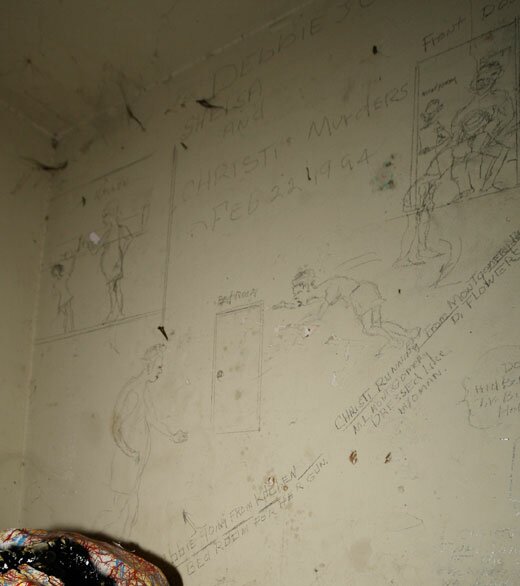 On the same day, the tallest angel in Heaven appeared to Seymour Perkins, revealing to him a tunnel that runs under his home, which is in fact the famous Underground Railroad. This tunnel connects his home to the Alamo and the Menger Hotel, and runs on down into Mexico. After receiving this prophecy (which I am recounting in only a very fragmentary and woefully incomplete way), Perkins founded the Debbie Jo Christi Museum, and Hanging Tough Ministries. Here is a painting of the tunnel running under the Perkins estate: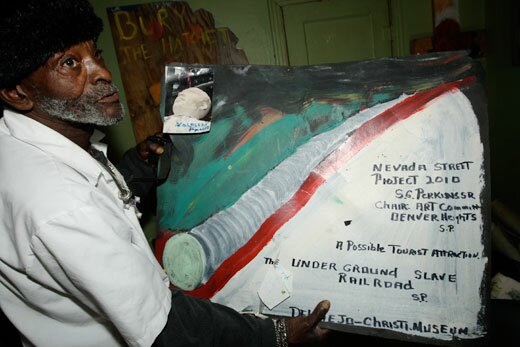 Here are a few shots inside the Debbie Jo Christi Museum: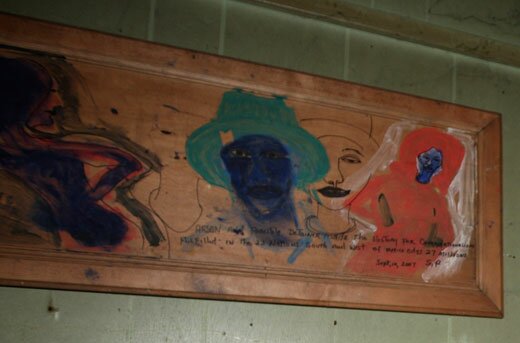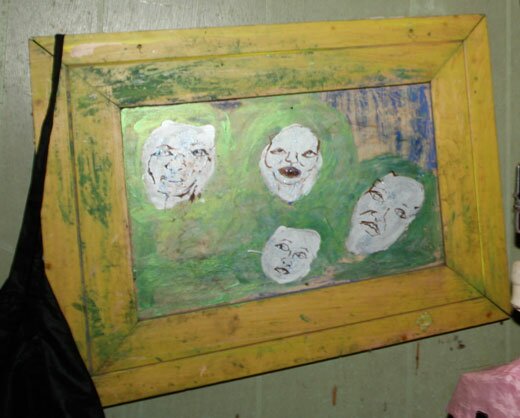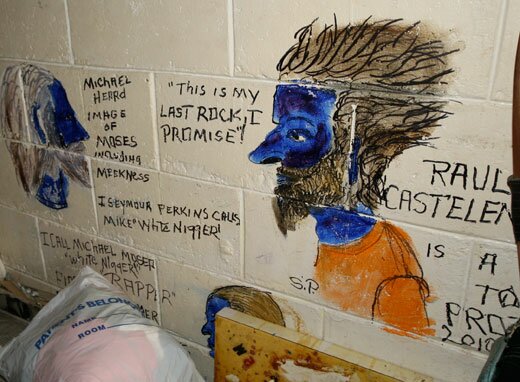 The Museum is located in a small building in the back of the house. But within the actual house, where Rev. Perkins delivers most of his sermons, there are a number of fascinating works. In his bedroom, the pieces below are painted on the wall. The first is a self-portrait of Rev. Perkins with his son: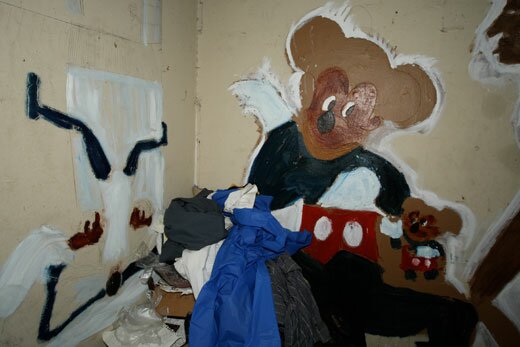 Next to this painting, is a larger work depicting one of his assistants, whose ass is stuck to his ass (i.e. he doesn't know if he's coming or going):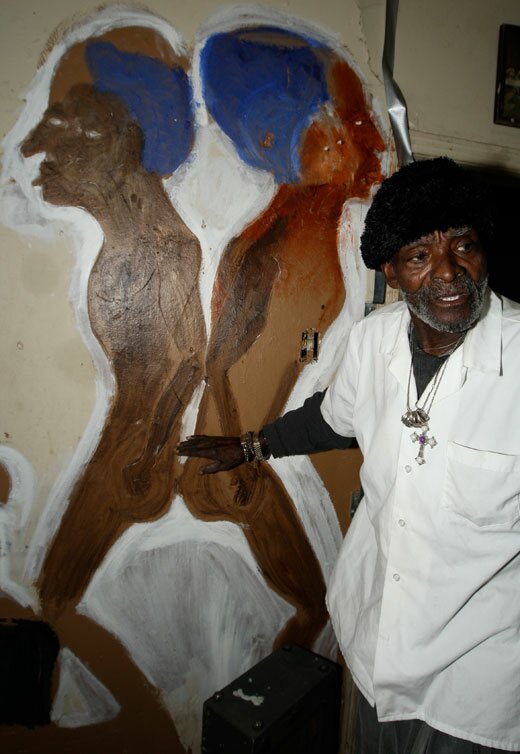 Below are a few details of one work painted on a window shade, depicting a man named Timothy Ringer, "the funkiest man in San Antonio":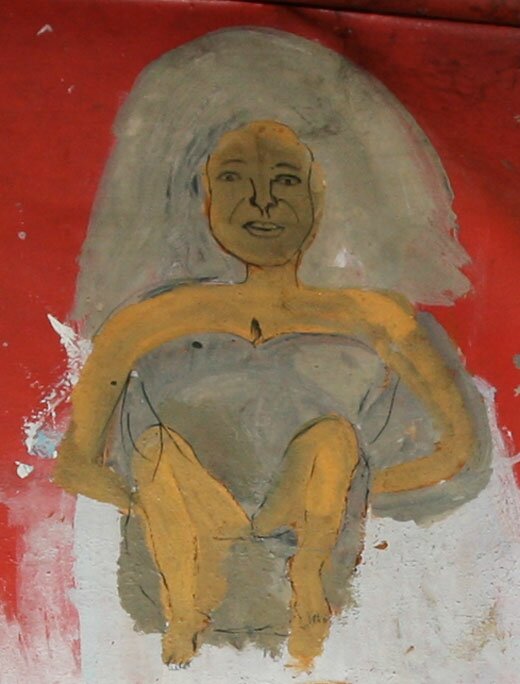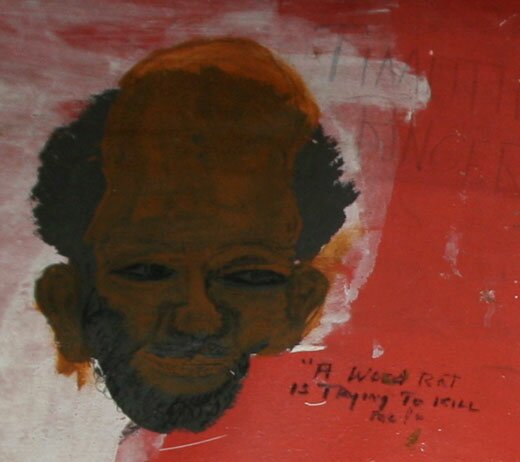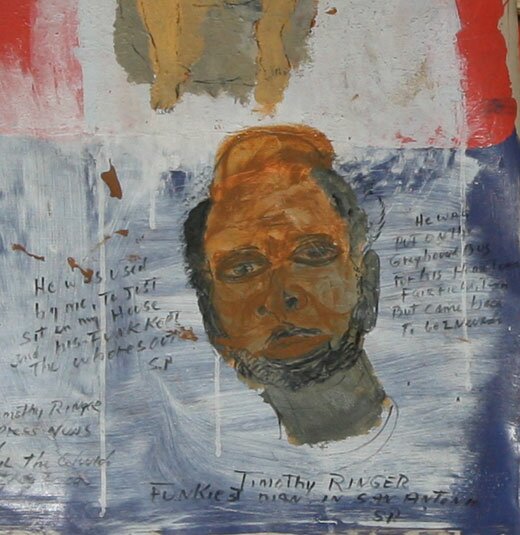 In addition to these works, dealing with himself, his family, and other meaningful people in his life, Perkins showed us a few pieces dealing with his relationship with God and History: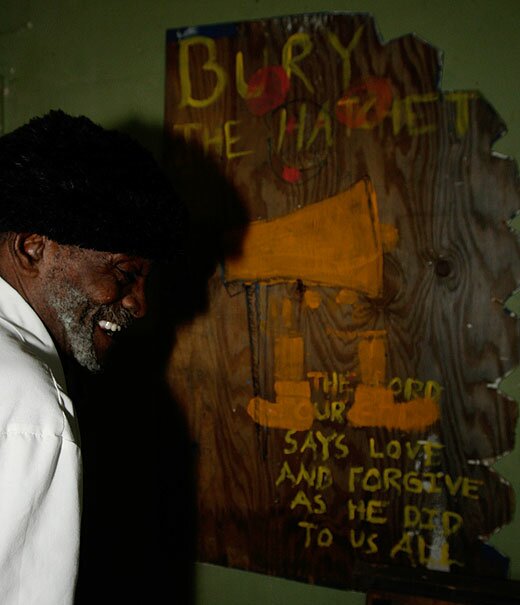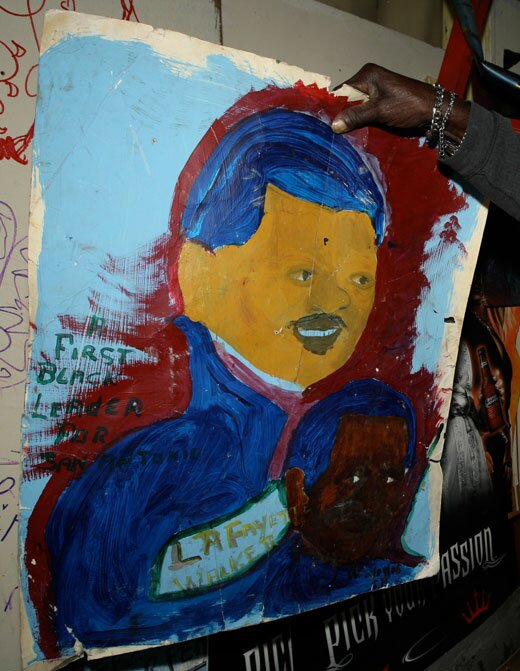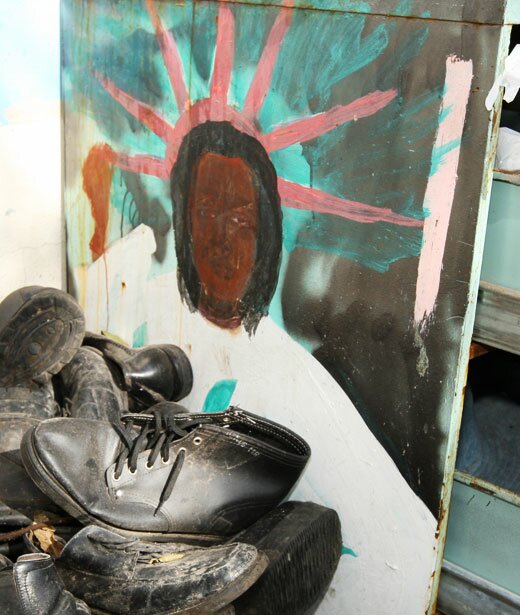 Now, this post isn't intended to rally support around Rev. Seymour Perkins, or to say anything about his proper place in our community. I'll leave that to his neighbors, his lawyers, and the city's elected officials. But I did think it would be good for people to see what is inside his home — if it is destroyed in the coming months, this may sadly be one of the most complete documents of what it contained. To see more of his work, please visit the San Angel Folk Art gallery in the Blue Star arts complex.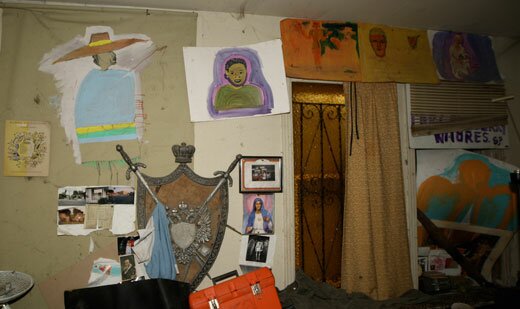 11 Responses to "Hidden Jewels of the Perkins Estate"
on 31 Jan 2008 at 3:05 pm #

Sean




Nicely done, I have always wondered what is inside.




very cool!, i own some of his work, great write up i am going to have to go over there and shoot some,




I do think some of his work is interesting and it's nice that you guys are documenting it. That area of town, however, needs an enema.

Since moving into Dignowity, I can tell some stories and I'm about to put some gloves on because I have kids and they don't need to be seeing some of the shit that goes on in our two-mile square radius.

on 03 Feb 2008 at 1:32 pm #

dipstick




I totally agree with Steve. Folk art or not.
HELP!




I totally agree with Steve. Folk art or not. HELP!

Maybe you should write an editorial for the Current or something. Better yet, start organizing folks in the neighborhood. Emvergeoning is here to document & discuss art, not clean up the city.




I thought this was an excellent follow up post, and I gotta tell you, I was scared to death of going inside that house when we shot those photos..but Really GLAD that I did.

on 05 Feb 2008 at 2:50 pm #

amy




dig the post.

a reverend that may or may not harbor drugs and prostitutes eh?
his work is really interesting. thanks for giving us an inside look…

the photos are beautiful!

on 12 Feb 2008 at 11:35 am #

Public Enema




If our policy is taken to its logical conclusion as far as the black people are concerned, there will be not one black man with South African citizenship … Every black man in South Africa will eventually be accommodated in some independent new state in this honourable way and there will no longer be an obligation on this Parliament to accommodate these people politically.




sweet, yo.

on 17 Mar 2008 at 6:39 pm #

Michael Jacobs




Hey All,

I'm in need of some help. I'm a doc film producer hoping to get in touch with Seymour to see if he's interested in being profiled for my show? Is there any way to get in touch or get word to him?

Let me know, thanks – Michael Jacobs ()




[...] Posted by ben on 31 Mar 2008 at 02:15 pm | Tagged as: upcoming events San Angel Folk Art will be showing works by Rev. Seymour Perkins (an outsider artist covered by Emvergeoning here and here) in an exhibit curated by Kelli McDonald this Friday (April 4), 5-7 pm. The show will run through April 30. [...]
Leave a Reply