Posted by ben on 31 Oct 2007 at 05:03 pm | Tagged as: outsider, responses/reviews
This post is the second in a series focusing on publicly accessible outsider art installations in San Antonio, Texas. The first post in this series covered the work of bird house maker Samuel Mirelez. All photos by Justin Parr.
Although San Antonio is considered a well-integrated city, the black population is still for the most part confined to the east side of town. Hackberry Street is one of the main thoroughfares running through the east side near downtown. It is on the corner of Hackberry and Nevada that Rev. Seymour Perkins wages a battle against drugs and violence with art, mythology, and religion. At his home on Hackberry, Rev. Perkins runs Hanging Tough Ministries, Perkins Art School, and The Debbie Jo Christi Museum Project. His ministries began after Perkins' daughter was killed in drug-related violence. He then started preaching and working in the neighborhood to curtail drug use. In 1999, his church was burned to the ground. Even after this tragedy, Perkins continued to preach from the cement slab on which the church once stood: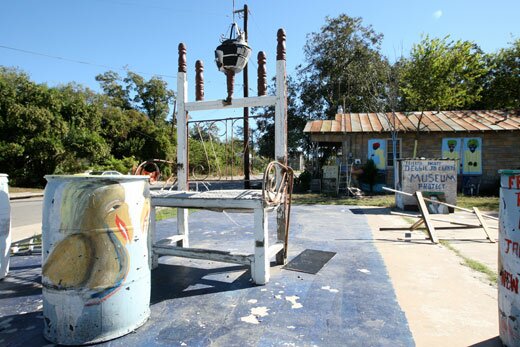 Much of Rev. Perkins' art celebrates boundary-breaking African-Americans, such as the first black cowboy, Nat Love, the first black college president, Martin Freeman, Sammy Davis, Jr, and Martin Luther King, Jr (you can find some of these portraits at San Angel Folk Art). At other times Perkins uses the art itself to break down barriers, by painting the Statue of Liberty as a black woman, John F. Kennedy, Jr. as a black man, or by painting traditionally white, aristocratic hairpieces on various black figures. By interweaving American mythology with his own visions, Perkins becomes a sort of poetic revisionist, fighting truth with faith. He works as a quixotic figure, trying to break down long-entrenched boundaries and nullify the fear, hatred, and desperation that they have created within his community.
Recently, Rev. Perkins was arrested by San Antonio Police officers after a search turned up drugs in his home. Some claim the drugs were planted there, while others speculate that a member of Perkins' "congregation", many of whom use drugs themselves, may have left the substance in his home inadvertently. The artist is out of jail, but his legal fate is uncertain.
You can find the work of Rev. Perkins at the San Angel Folk Art Gallery, and at see his Sculpture Garden at in San Antonio.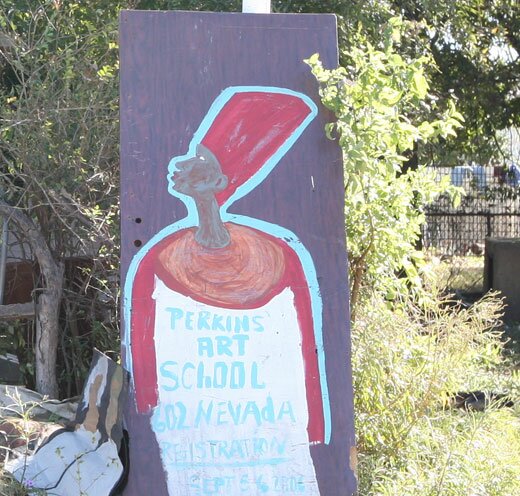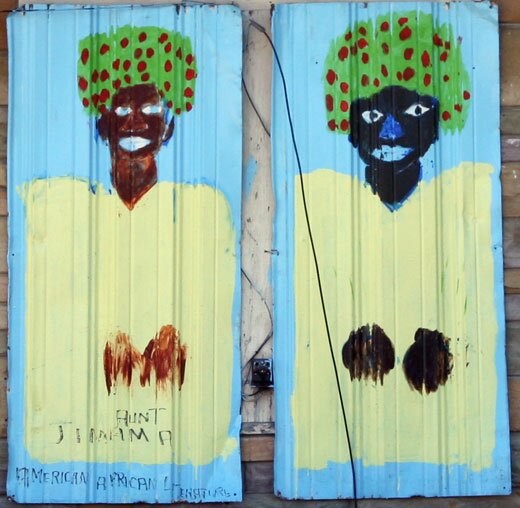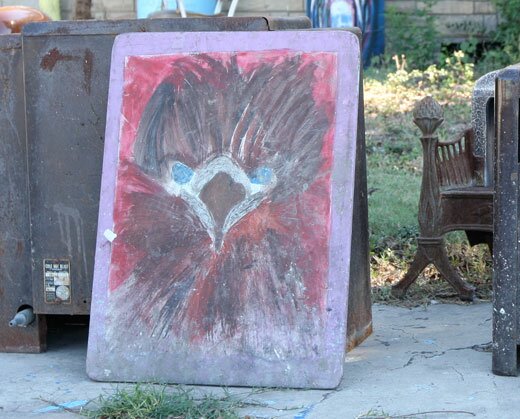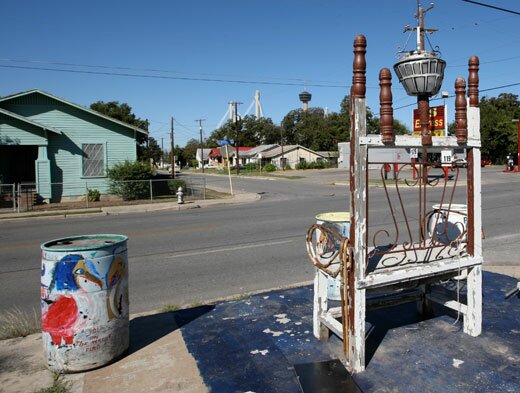 17 Responses to "The Greatest Hits of San Antonio Outsider Public Art, Vol 2: Rev. Seymour Perkins"
on 31 Oct 2007 at 6:35 pm #

hungry.




on 31 Oct 2007 at 6:36 pm #

hungry.






i own about six of his works, thanks for doing this write up




I know I'm a little biased, but this is a great series! I was wondering what the story was behind the slab and if there had ever been a church standing on the property. It would be interesting to see some photos of it if any exist. Also, Somewhere in my archives I've got photos of the semi-infamous "Pregnant Hookers Bench," that used to sit roadside facing out for all to see. When we went by to take these shots, it was nowhere in sight. I'll see if I can dig them up..

on 01 Nov 2007 at 10:03 pm #

Gay




You are right, Justin, it IS a GREAT series. Gives one a new sense of pride for ones home town! Keep up the great work, guys!




Here! Here! Here!
Awesome series so far, Ben et al.

on 04 Nov 2007 at 1:45 pm #

Count Basse




FYI: Perkins used to preach something about a predetermined reclamation of the Southwest U.S. that he seemed to endorse by wearing a Mardi-Gras-style plastic Mexican flag pendant around his neck.

Oh, and aside from Fort Sam, who considers San Antonio well-integrated?

on 05 Nov 2007 at 12:57 pm #

hungry.




um, count, i love your nom de guerre, but uh… travel much in the u.s.?
i mean beyond the mega-metropolii like nyc or chicago?

on 05 Nov 2007 at 1:01 pm #

hungry.




ben and justin – i know he's already been covered by all the major art blogs, but how about that fella in alamo heights with the toilet seat museum? or all the trabajo rustico around town? or that kid who paints stripes on lampposts? just thinking out loud. i'd like to see this series continue.

on 06 Nov 2007 at 1:04 am #

hungry.




new orleans?
memphis?
detroit?
oakland?
spokane?
d.c.?
austin?
houston?
dallas?
vidor?
jasper?

on 06 Nov 2007 at 1:05 am #

hungry.




mexico city?

on 06 Nov 2007 at 5:07 pm #

Count Basse




[spoken in a nagging Bill Cosby voice-over]

Jesus, hungry, I never said we live in fucking Robstown.

p.s. Do you have that commission ready, puddin-for-brains?

[to the tune of "Tie a Yellow Ribbon 'Round the Ole Oak Tree."]

on 06 Nov 2007 at 6:46 pm #

hungry.




[spoken in a hysterically triumphant edward g. robinson voiceover]
i got da motts, applesauce.
[to the tune of "de camptown races."]




[...] Posted by ben on 12 Nov 2007 at 02:33 pm | Tagged as: responses/reviews, outsider This is the third in a series of posts on publicly accessible outsider art installations in San Antonio, Texas. The first two covered the work of Samuel Mirelez and Rev. Seymour Perkins. [...]




[...] Posted by ben on 31 Jan 2008 at 12:33 pm | Tagged as: art paparazzi, adventure day, interviews, arts organizations, celebrity sightings, outsider A little while back we did a series of posts on publicly accessible outsider artwork in San Antonio. One of the artists we covered was the Rev. Seymour Perkins, a controversial figure who lives on the east side of town. While others argue over whether he harbors drugs and prostitutes, and his lawyer battles with the city over the fate of his home, we here at Emvergeoning decided to take another peak at the work that isn't so publicly accessible — the work inside his home. As Rev. Perkins gave us the tour I tried to absorb all the details, while Justin Parr snapped shot after shot of the inner sanctuary. From what I was able to gather, Seymour Perkins' daughter, Debbie Jo Christi, was killed in a drug-related conflict on February 22, 1994. Here is a drawing on one of the walls that depicts her murder: [...]




[...] Posted by ben on 31 Mar 2008 at 02:15 pm | Tagged as: upcoming events San Angel Folk Art will be showing works by Rev. Seymour Perkins (an outsider artist covered by Emvergeoning here and here) in an exhibit curated by Kelli McDonald this Friday (April 4), 5-7 pm. The show will run through April 30. [...]




[...] cancer, but don't have all the details. Emvergeoning wrote two long posts on Perkins, first as part of our San Antonio Outsiders series, and then a follow-up visit to document the work inside his home. I think the best place to see his [...]
Leave a Reply