Posted by ben on 04 Feb 2008 at 09:29 pm | Tagged as: graffiti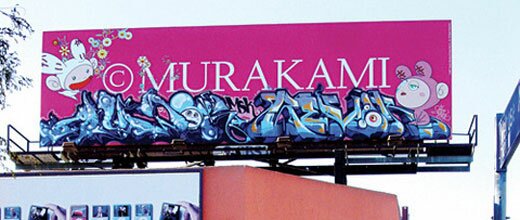 An interesting story out of LA, a bit like this tale from San Antonio, but with a happy ending:
Luckily, REVOK carried his camera that day, and L.A. Weekly received the photo; we were wowed. So, it turns out, was Murakami, whose Kaikai Kiki studio found the evidence via the Internet and had the billboard surreptitiously removed. Murakami buffing billboards all the way from Japan? On the contrary, according to his representatives, he found it "so wonderful, he had to have it for his collection." Our billboard is now on its way to Tokyo.
(Hat tip: MAN)
3 Responses to "You Just Have to Know Who to Tag…"
on 04 Feb 2008 at 9:45 pm #

Projectionist




on 05 Feb 2008 at 10:50 pm #




murakami's a big fan of graf, so basically- revok and auger picked the perfect spot.

on 06 Feb 2008 at 11:27 pm #

MAMA




THE RICH KEEP GETTING RICHER
Leave a Reply