Posted by ben on 12 Feb 2008 at 12:01 pm | Tagged as: design
Ever since I got a subscription to the now-defunct Emigre magazine, I've been interested in how obsessed a lot graphic designers are with ethics. On one level it makes sense, with graphic design being, along with architecture, one of the art few forms that ordinary people have to deal with on a daily basis. On another level it always seemed strange, since ethical considerations don't seem to factor into the calculations of most of the designers' clients. But perhaps this is why many designers feel compelled to grapple with morality: there's a lot of pressure from their clients not to think about it. At any rate, there's a new article at Design Observer does a good job of exploring the ethical implications of the Enron logo, one of the last logos created by uber-designer Paul Rand. The point that branding empowers consumers (as made in this Economist article) is an important one that is too often overlooked.
PS What is up with this new Hyatt Place logo? Does anyone find this compelling?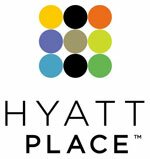 PPS Check out Brand New, a blog on corporate identity for more discussion of logos and branding.
4 Responses to "The Crooked E"
on 12 Feb 2008 at 12:13 pm #




on 12 Feb 2008 at 12:14 pm #

Sean




The Hyatt Logo looks like a color scheme from a J.C. Penny's catalogue crica 1974. It just needs some shag carpet on the bottom and maybe 8 inch lapels.

on 12 Feb 2009 at 1:41 pm #




Of Course it is a Trombone




when looking at this in situ as an actual installed and lighted sign, it appears to me to be an ad for a peculiar color assortment of rustoluem spray paint cans as seen from above. maybe i just need to stay out of the rattle can fumes for awhile…
Leave a Reply