Posted by ben on 17 Mar 2008 at 08:39 am | Tagged as: adventure day, celebrity sightings, party photos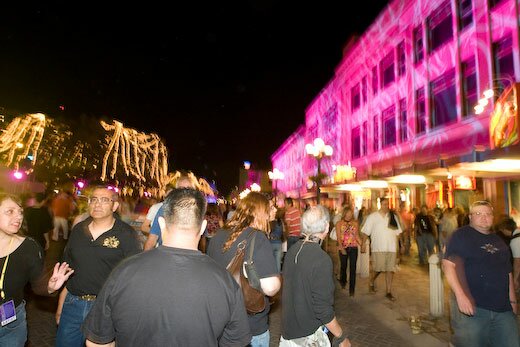 The crowds in Alamo Plaza (photo by Justin Parr)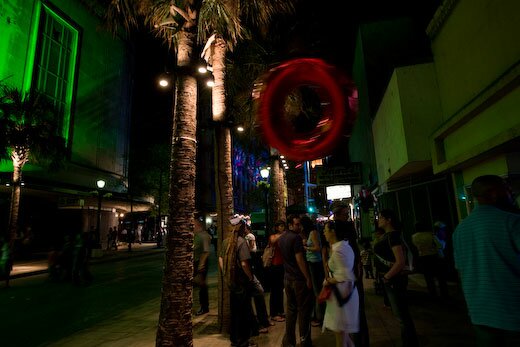 Houston Street (photo by Justin Parr)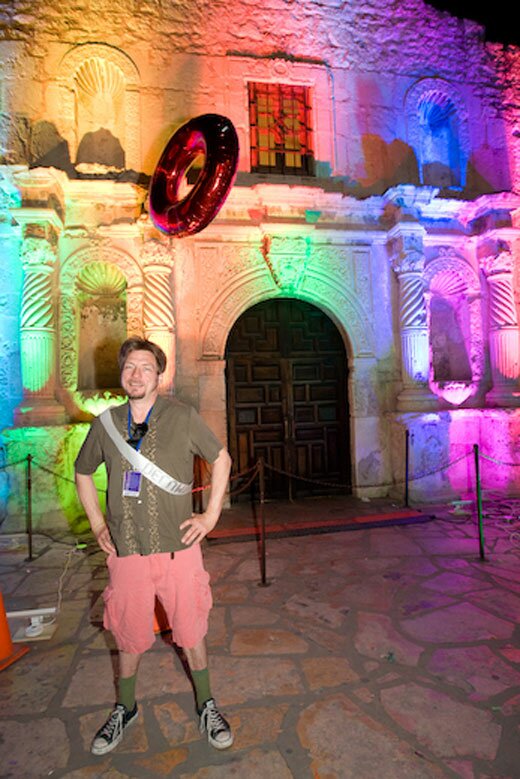 Chuck Ramirez in front of Bill FitzGibbons' Alamo installation holding a Parr mylar sculpture (photo by Justin Parr)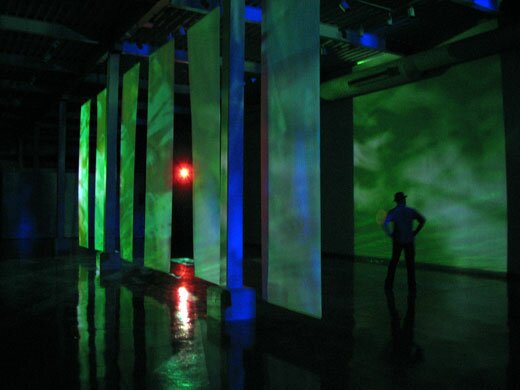 The Mixing Chamber (Stuart Allen / Potter-Belmar Labs) at SAMA (photo by David S. Rubin)

4 Responses to "Luminaria Photos"
on 17 Mar 2008 at 9:40 am #

Sean




Cant wait until there are more pictures on flickr!
WOW, that was a fun night. I had no idea it was going to be that large, I agree "holy shit, they pulled it off"
Lumiaria officials and SAPD said over 100,000 people more than any single fiesta event or new years eve, also, the crowd was better behaved than any NIOSA ever, not hard to imagine but satisfying to say the least. Justin, congrats on your grand ballooning of downtown.
I hope that San Antonio can carry this success into next year's event and have more sponsors, more artists, more music, more interest, more space, and more involvement by the citizens of San Antonio.
Long story short, I had a blast going from venue to beer booth to bar to art exhibit to poetry reading to lighting ceremony to beer booth.
Just remember to thank your local city official, just to rub it's success in their elected face. Thanks to Mayor Hardberger for thinking it up. Problems and glitches be damned the overall benefit far exceeded any problems. I do aplogize for that last comment if you were one of the few artists who had a logistics problem in their pieces, count it as a lesson for next year and make it bigger and better. After all this was the first time any city has done anything like this in Texas, way to go San Antonio for raising the bar for artists and art communities in our state.




Sorry for the lack of good photos of the event on my end, I was to busy having fun being part of my installation "Hous on St." with Skylar Saucedo.

on 22 Mar 2008 at 1:37 pm #




One by one, many of the working class quarters of London have been invaded by the middle-classes—upper and lower. Shabby, modest mews and cottages—two rooms up and two down—have been taken over, when their leases have expired, and have become elegant, expensive residences [...]. Once this process of 'gentrification' starts in a district it goes on rapidly until all or most of the original working-class occupiers are displaced and the whole social character of the district is changed. Glass, R. (1964). London: aspects of change.

on 09 Nov 2009 at 10:12 am #

Seevers




Thanks for nice post.
Leave a Reply