Posted by ben on 23 May 2008 at 05:11 pm | Tagged as: design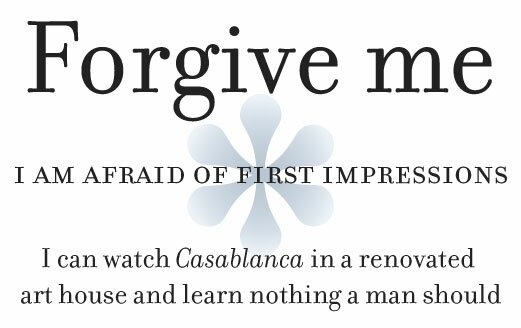 Forgive me for posting what amounts to an advertisement for Emigre's Bodoni revival typeface, Filosofia. The following is a love letter to Filosofia taken from an Emigre catalog, and I just enjoy reading it too much to resist posting. The image above is set in Filosofia.
Dear Filosofia,
Forgive me. I am afraid of first impressions. I can watch Casablanca in a renovated art house and learn nothing a man should learn. I have seen you escape from your lectures to sip a cappuccino with your back to the café door. You don't want your business students to notice you leafing through a catalog, and, if they do, you want a quick way out. I understand. You are guardedly ambitious, elegant skirts always past the knee, eyeglasses firmly set on the bridge of your nose: a modern independent woman who demands creative devotion from the apes who grunt for your attention. I have failed to approach you. There is history in you, and I don't trust myself to respect the silence. I might want too many answers. I blame nerves, bad timing, my life's tedious projects which are like puppies snapping at my laces. Too many base distractions when I want only to see you. I wish with all my heart to avoid ever being accused of staring too long. So now I am relying on this old-fashioned technology, the letter. To write a letter is now an art, a curiosity, and exuberance, like dusting off an ancient typewriter to prove that the depth of one's feelings is as vast as time itself. This letter is my awkward gesture. I am at the door, an ape signing a mute language, hoping you will somehow hear, and turn around.
One Response to "Forgive Me"
on 24 May 2008 at 1:45 pm #




From visible to invisible
Into…
That illuminates each fragment of the screen
Put into the ball of which it's part
Observe…
Leave a Reply