Posted by ben on 31 May 2008 at 02:54 pm | Tagged as: acquisitions, announcements, arts organizations, design, rumors, sneak peeks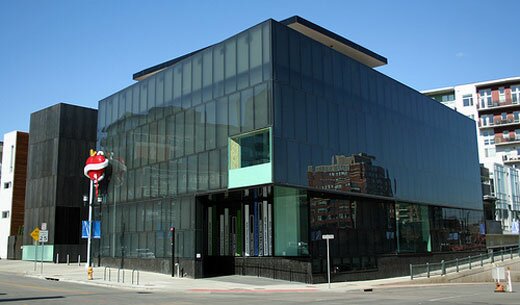 A few days ago Dan Goddard posted some interesting details on the museum that will house the contemporary art collection of Linda Pace:
By this fall, the foundation expects to select a site in San Antonio for the construction of a permanent home for Pace's contemporary art collection, including works by Willem de Kooning, Olafur Eliasson, Isaac Julien, Richard Tuttle and Rachel Whiteread. British architect David Adjaye, who designed the Museum of Contemporary Art in Denver, is working on the project.
Some are anticipating that the museum, when completed, will be as important as the Menil in Houston (we'll see…). Adjaye has already created a model for the museum which was sort of viewable through the glass of a locked office door in the Linda Pace Foundation offices during an event last night. I just caught a quick glimpse, but the model seemed less boxy than some of Adjaye's more well-known projects, such as the Museum of Contemporary Art in Denver (above).
An exhibit of Adjaye's work will be traveling to the Hudson (Show)Room at Artpace in September. The show, organized by London's Whitechapel Art Gallery, is called "Making Public Buildings" (a catalog is ). As usual with Hudson shows, Adjaye will be giving a walk-through at the opening on September 11. In addition to high-end London homes and public buildings such as museums and libraries, Adjaye has collaborated with artists Olafur Eliasson (see here) and Chris Ofili (see here) on projects that blur the line between visual art and architecture. Adjaye's buildings are noted for their experiential sensitivity and their ability to respond to the surrounding environment.
We'll give you more details as we get them…
5 Responses to "Details on Pace Museum Trickle Out"
Leave a Reply