Posted by ben on 01 Jul 2008 at 12:20 am | Tagged as: acquisitions, adventure day, arts organizations, design, photography, politics, public art
It was closing time at my neighborhood bar, the three of us leaning on a concrete table surrounded by cactus, when I heard about the dumpster full of art. A large scale public mural by Anton Vidokle was in the process of being removed by a company which had bought the building. The mural, an application of 100 vinyl decals on metal panels, depicted simplified versions of logos from bankrupt companies. Now the panels were being removed and thrown in a dumpster in the parking lot next to the building.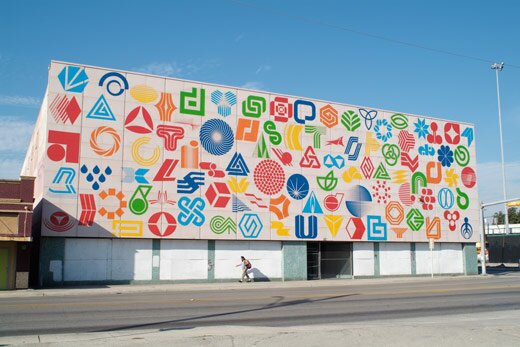 Installation shot of 100 Bankrupt Corporations (public geometry) by Anton Vidokle (courtesy Artpace)

We finished our beers, jumped in the car, and headed downtown. When we found the dumpster at around one in the morning, we realized immediately that we weren't the first San Antonio art scenesters to have this idea. While almost all of the panels had been removed from the building, only a dozen or so were left in the dumpster. We jumped in and started throwing our favorites out into the parking lot. After cramming as many as we could into the trunk of the car, we took off, leaving a few for any other art scavengers who might not look down their noses on dumpster diving. After installing a panel with red semi-circular fragments of anonymous logos in my living room, I started noticing the other pieces around San Antonio. Stacked up near studios, hanging on workshop walls, leaning up against houses, they spoke of something just out of reach. Over the course of their lives, from symbols of production and commerce which drowned in a sea of such symbols, to their resurrection as material for an intricate yet minimal public mural, and finally to their cold, arbitrary fragmentation along the lines of a surface grid, they moved from abstraction to abstraction, carrying bits of identity from place to place.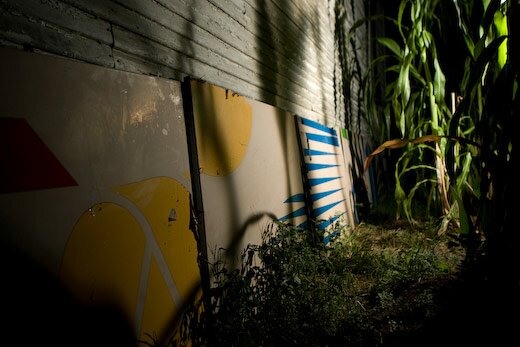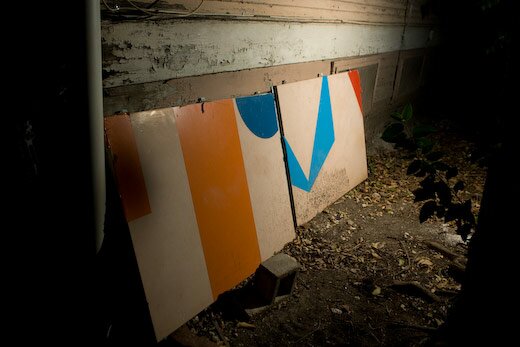 Photos of Vidokle panels in the wild by Justin Parr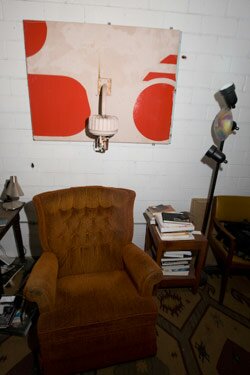 For a long time I waited for the few remaining panels along the top and down one side of the building to be removed. Every time I drove down San Pedro I looked to see if a few more of these public geometries had been taken from the face of the building, if perhaps the dumpster might have a few more treasures in it. And for a long time nothing happened. The building remained unchanged. After some months I forgot about the few logos that remained in their public home, and the mostly-deconstructed facade slowly slipped into the background of my focus.
Then one day it was gone. Not the facade, the panels that were always too exentric to remain for long, but the building itself, which had been reduced to a heap of rubble. A slight controversey ensued, but that too will slip from the front of our minds before long. Still, these little pieces of the mural endure, reminders of the simplified, fragmented memories we collect from our meanderings through the city; reminders of the sometimes crude identities we carry with us, and the ways they can be resurrected, transformed, annihilated.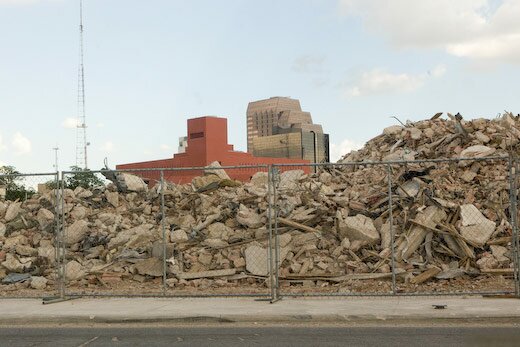 Photo of Jorrie Furniture Building rubble by Justin Parr
3 Responses to "Cities and Loss: Fragments of Anton Vidokle"
on 07 Jul 2008 at 2:34 pm #




!!!




[...] Salvaging Anton Vidokle 's San Antonio mural of simplified versions of logos from 100 bankrupt companies [Emvergeoning] (tags: mural art texas logos bankruptcy) [...]




Great writing and suggestions. Thank you!
Leave a Reply