Posted by michelle on 30 Aug 2008 at 03:02 pm | Tagged as: interviews, wordy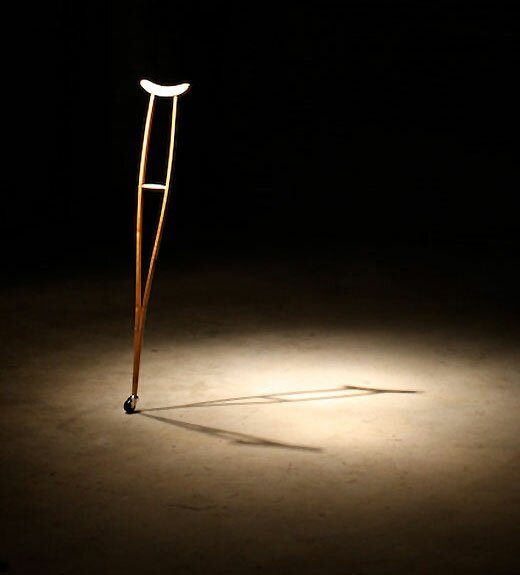 EMV: Kristy, you've been an artist primarily working in the sculptural realm. Ever since you won the Artist Foundation Grant [correct me on the title/specifics], seems like you've been getting steady shows and making stronger work. Why are so many objects gilded? I know Glasstire posted a nice photograph of the gilded dog bone, but they didn't let you explain yourself. Want to do that here?
KP: Yes, in 2007 I was the first recipient of the Chez Bernard grant for underrepresented artists. This is a grant made possible by Mr. James Lifshutz on behalf of his father Bernard Lifshutz for the Artist Foundation of San Antonio. The foundation itself is the brainchild of Betty Ward and Patricia Pratchett. You know I have to say here, that the opportunity I was provided by this group of people/artists/patrons really helped a dream come to fruition. I mean I got to have my hand in every part of making that show happen. It was pretty damn close to…here's some money, find a place, make some work, and let us know what you need, to set it up the way you imagine it. That kind of freedom and support was something I had never experienced befor. It was empowering. I would encourage any artist to check out the A.F. website and learn more.
I've worked for the past 4 years as an assistant to art conservator, Anne Zanikos. My duties at work are primarily frame restoration and conservation of polychrome wood objects and so it was here that I was introduced to gilding. Somewhere along the way using gold leaf in my artwork became inevitable. I had seen what it could do for a surface but also, the preparation involved before an object is gilded is quite meticulous and labor intensive. This process forced me to be disciplined, and really learn the craft in order to be rewarded in the end with this beautiful glowing object. The whole tactile experience presented itself as an invitation. In contrast, using the material in my sculpture I bring my understanding of the craft but sometimes allow myself to be more free or loose in the handling…in hope for some poetry along the way. I guess it would be good to note here that gold being "arguably" one of the most precious commodities in the world really serves its purpose when using it in juxtaposition with an everyday, overlooked or forgotten object.
EMV: Being based in San Antonio, do you find it difficult to gain curatorial and critical attention outside of this South Texas sphere?
KP:
I am based in San Antonio, Texas because this is where I'm from. "Entiendes Mendez?" I have to be honest and say that it is only recently that I have started pursuing opportunities outside of S.A. or Texas. Although I did have a piece recently accepted into
The 1st International Roaming Tehran Biennial: Urban Jalousie,
which opened on May 30th in Istanbul, Turkey. This was an open call to artist all over the world. I'm not planning on showing again until my show at
Sala Diaz in 2009
. I'm looking forward to starting my work for that show.
EMV: Do you consider yourself a feminist artist? What does that mean in 2008 anyway, with the porno Martha Rosler image as the catalog cover for all things documented as feminist art [WACK: Art and the Feminist Revolution]?
KP: I hope that everyone who hears this name goes and looks it up – HARMONY HAMMOND. Now that's a feminist artist.
I don't think I've done enough work to call myself a feminist. Harmony, on the other hand, in the 70's was busy carving out the way. She had work in the recent WACK show. You can read her books and find her now 30+ years later teaching at Skowhegan, curating and still making her own art. I was lucky enough to have this amazing woman come and visit me at my one bedroom apartment, which also functioned as my studio at the time, to see my work. She suggested that I submit work for consideration into a show she was curating called "Y Que?" queer art made in Texas in Lubbock at Texas Tech. So I did. Not only did she accept my work, but she invited me to do my first ever panel discussion. These moments put you in your place. You begin to embrace a lot of yourself and it starts to show in your work. I've always said, although I never set out making a work with any specific agenda (i.e. Queer, Feminist, Latina, etc.) I would never deny those implications in my work.
EMV:
The
installation show you did at the Friedrich Building
in San Antonio last year had some really powerful sculptures. One in particular seems to be this anti-gravity crutch spotlighted in the middle of a vacuous, industrial warehouse. Why did you choose the Friedrich Building and what was this crutch conveying?
KP: Thank you. Well, actually the installation at the Freidrich Building was in fact the work I created with my grant from the Artist Foundation. Emily Morrison, (who by the way worked her ass off for this show…she was with me every step) was at the time (I'm not sure if she still is) working with the foundation and she and I would basically drive around the city and look for available space. One day she told me that Eugene Simor of Alamo Beer Company had some space available. We went and looked and that was all I needed. Big, empty, dripping, drafty, and concrete!..what more could I ask for?
Rolling off the romantic lead of the space I made a series of sculptures based on the theme of Love. The sculpture you are talking about in particular is titled: FIGHT!
It is a freestanding wooden crutch on a caster that sits directly onto hardware embedded in the ground. It is quite striking when you are standing next to it. It seems as if it could take off right toward you at any minute. I guess that's what the piece is really about. The possibility of the impossible. I love toying with the idea of suspension and pull because those things talk about desire and too often we let our ideas die out of the expectation that there is nothing beyond this absurd realm. I understand the time we are living in right now post, post, post, plural, plural, plural but fuck assimilation. I'm not interested in homogeneity. I'm not going to stop searching for something absolutely different. If I did that, the crutch would never have had a wheel to stand on. This piece means a lot to me. It's about salvation.
EMV: A lot of your work is quite poetic. I know you are meticulous about every title of every work. Can you elaborate on the relationship between sculpture and title? What is your approach to contemporary work that leans on a blank "Untitled" label?
KP: Thank you for your kind words. Mixing two languages is a tricky game. There is some risk involved. I enjoy the challenge lately.
I am glad you asked the question about "Untitled" work. I have a whole body of work that is quite reductive and none of those pieces are titled. But you know, I'm one of those people who thinks that there is something really fucking beautiful about a black square in the middle of a canvas or sheet of paper all by itself. What else does it need or what would we name it? "Black Square (Untitled)" right? How about "Not for Sale." What can I say? Malevich was right. Anyways, I try not to judge a work based on whether or not it's titled. If something doesn't have a title, then as a viewer I am required to be a whole lot more invested in what I do have and that's the medium. It doesn't necessarily mean I have to like what I see but it's what I've got in front of me at the time. I think most artists are making an honest attempt at finding meaning.
4 Responses to "From Texas to Tehran: Q&A with Kristy Perez"



Hey! Awesome series !!




Titles, like interviews with artists can change the whole way you view a certain piece.
In a way, it is wonderful to look at work and know what the artist was thinking when he chose to express himself in the particular way that he did, and on the other side, there is magic standing in front of an untitled piece, letting it say whatever it is that it says only to you.
Once the art is out there – the meaning of the piece is no longer only the artists to decide.

on 18 Oct 2008 at 8:05 pm #

Andrea




You have become quite an amazing artist. MACHO is my favorite of your work.

I still have some of the drawings you made for me in college. Lucky me!

on 02 Aug 2009 at 9:29 am #




慈
Leave a Reply