Posted by justin on 30 Oct 2008 at 04:06 pm | Tagged as: acquisitions, adventure day, art paparazzi, celebrity sightings, party photos, sneak peeks
Go check out the road to the parking lots at the ol' San Antonio International Airport.  San Antonio local, Gary Sweeney has interjected some good humor into a portion of the drive. I managed to catch him there, hard hat and all..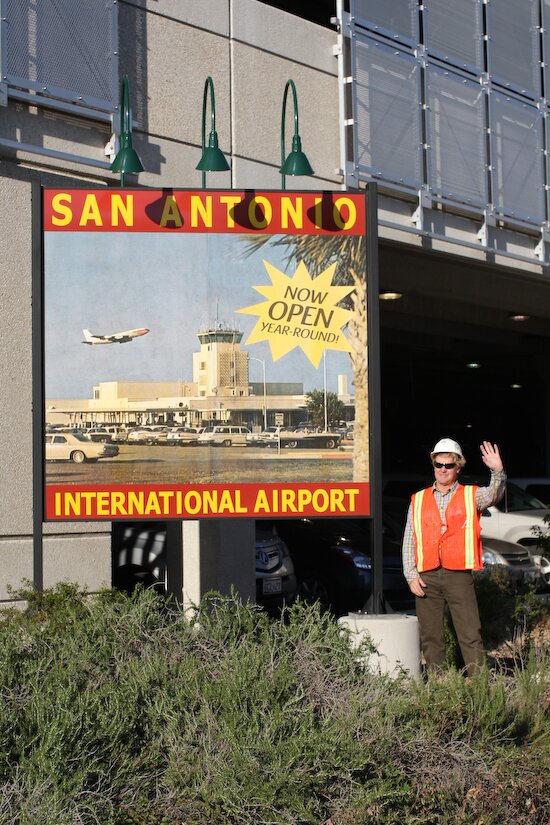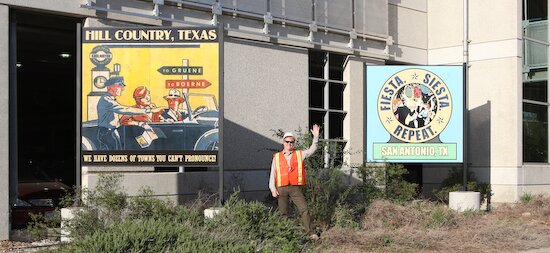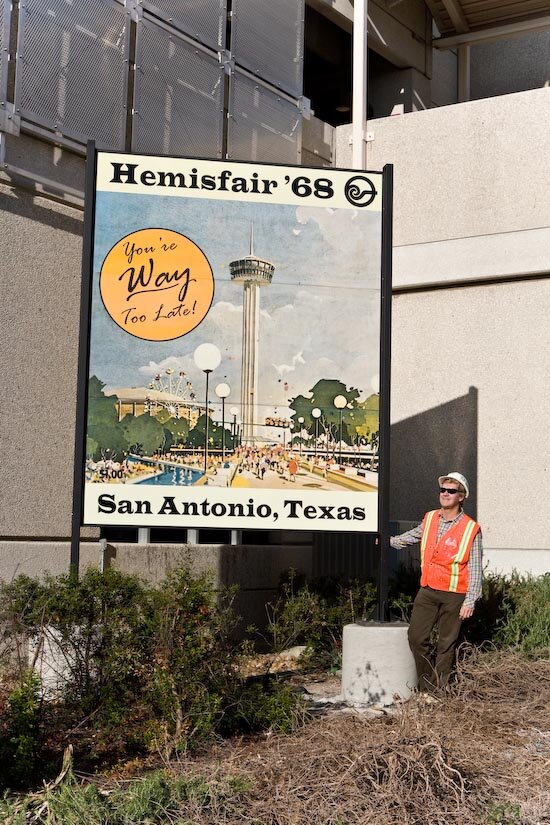 These are just a few of the signs he placed in the drive space, keep an eye out the next time you go for a spin around the SA Airport to catch the rest.
8 Responses to "Sneak Peek – Gary Sweeney new permanent installation at S.A. International Airport OPEN NOW!"



best airport art installation ever. a true antidote to the mono-color plexiglass box poison that has infected us for so long. [we are all still awaiting an explanation of the public shower stalls located around the 'modome, city.]

mr. sweeney is officially short-listed for the 2008 keep san antonio lame-itzer prize.




most excellent. who sponsored?




maybe this is the best airport art ever that was, like, deliberately art that was made by an artist. BUT it still can't hold a candle to the Little Rock airport. The entire fucking terminal looks like a recreation of the Max from Saved By The Bell. I wish I could live there. I do in my dreams.

on 02 Nov 2008 at 7:47 am #

ian




This is amazing. Are there any jpegs of the art?

on 02 Nov 2008 at 10:32 am #

Laura Brothers




JPEGS:M




ok, I have fielded a few questions in the real world related to this.. the signs are on the back side of the new parking garage area @ the SA Airport.. the only way to see them is to drive towards the parking area and stay to the left in the lanes. The proper parking drive to enter is the one to the left of the initial arrival/departures area at terminal one.




Bright ideas from a bright mind it seems… pe@ce and prosper

on 04 Dec 2008 at 10:32 pm #

Josh Dingus




That's hilarious. Very nicely done. Actually makes me miss my hometown a little.
Leave a Reply