Posted by ben on 27 Nov 2008 at 02:36 pm | Tagged as: acquisitions, art paparazzi, design, public art, sneak peeks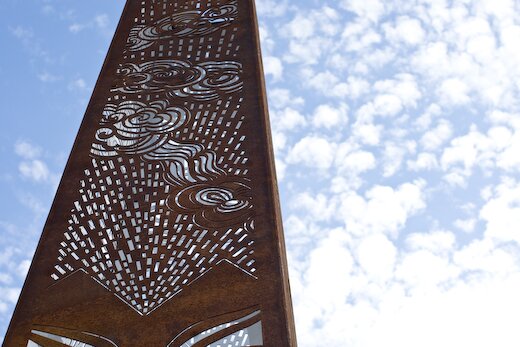 San Antonio's newest public artwork was installed yesterday at the intersection of Blanco and Fulton, in the center of a new roundabout. The internal lighting system is not installed, however, and the piece will not be completed until a December 15 lighting ceremony. A press release sent out by Public Art San Antonio explains the significance of the piece:
The design of this new public art work at the roundabout draws a physical and spiritual link between "Beacon Hill", the name of the neighborhood in which it is located, and its two most predominant architectural styles: Art Deco and Arts and Crafts. These are symbolically represented by the artwork's two main components: a "sunburst" motif on the brick pavement of the roundabout and its obelisk-shaped "beacon/luminaria." The "sunburst", the most popular of all Art Deco motifs, metaphorically stands for its life giving force and the revitalization of the inner city business corridor. The "obelisk", a symbolic quadrangular vertical sunray made out of steel, will serve as a sundial during the day. Its perforated allover design begins at the bottom with symbols of indigenous ancestral life cycles followed by references to the landscape that the traveler encounters on route to the town of Blanco, Texas.
Emvergeoning made it out to snap a few photos, followed by (highly recommended) pumpkin empanadas from the D.J. Bakery down the street.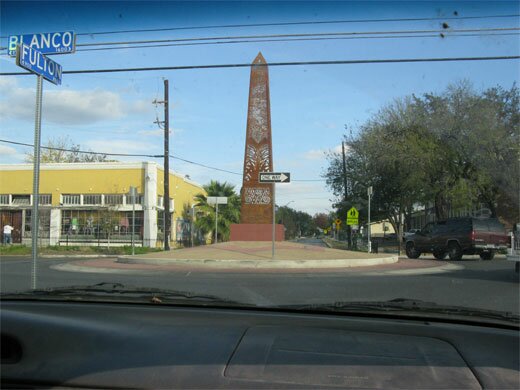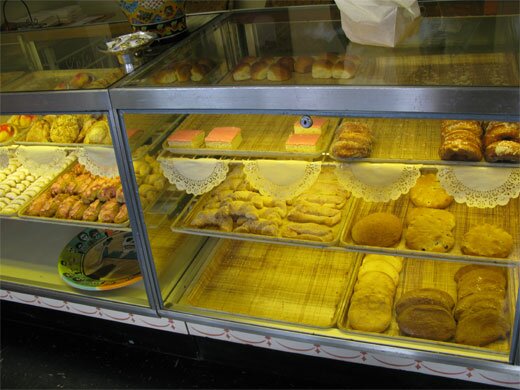 3 Responses to "Angel Rodríguez-Diaz "Luminaria" Sculpture Opens"
on 28 Nov 2008 at 7:28 am #

Chris Gutierrez




Two things…
First of all, the obliesk is a great piece that bridges several art aesthetics and ideas
and secondly D.J bakery is of the best in town.(by far)






I snapped some photos of the obelisk back in Nov. I am looking forward to seeing it lit up. It would be nice if they could rerout some of the power lines because they really detract from it's aesthetics.

http://farm4.static.flickr.com/3021/3062405951_56fb5d9b19.jpg
Leave a Reply