Posted by michelle on 10 Apr 2007 at 09:55 pm | Tagged as: responses/reviews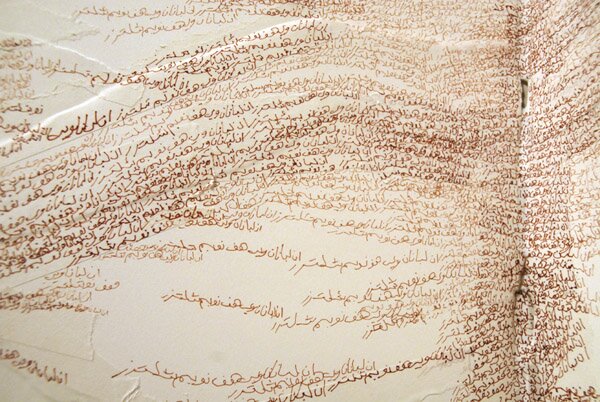 First, let's get Artpace out of the way. As the local contemporary art biscuit factory navigates through firing, hiring, and renaming of employees, it's obvious you won't be seeing any new catalogs in the near future. A little bird tells Emvergeoning that Kate Green will be leaving the drudgery of Artpace, though no official word confirms whether its of her own volition. Either way, we know she's bound for better things. In other end of the road news, looks like The Donkey Show, a home/gallery space in Austin, finally bit the dust. No word on what fellow Bard-educated curator R. Puleo has lined up but it's likely she will go work for Art Palace.
Meanwhile, let's take a look at Ye Olde Blue Star Contemporary Art Center. The local institution seems to be treading new waters to distance itself from a dismal Salma Hayek portraiture show and depressed local interest. A new, cleverly designed membership newsletter offers an earnest effort to steer the ship back into the warm waters of Contemporary Art. This month's "Monumental Drawing" show managed to coax that fickle New Yorker art crowd into the city limits. Still, artists like Annabel Daou were absolutely inarticulate and disdainfully evasive when asked to expound upon her selected works and her affiliation to the DB Foundation. Ms. Daou seemed preoccupied with talking about her stilletto heels. [Insert ennui induced eye roll here]. Her drawing titled, "A minor gesture" involved scribbles on paper that stretched the world of cursive text into lunging, schizophrenic territories. Nice. I've posted a better drawing from one of her earlier shows for this article, since there aren't any press photos on the Blue Star website. Creighton Michael created one of the larger and yet serenely subtle "drawings" with shadows of white paint-coated clips of disconnected twine and metal. It reminded me of Gego's Dibujos Sin Papel.
In other neighborhood news, this is your last chance to see Hana Hillerova's lovely thought-forming mirror sculpture at Sala Diaz. And don't forget, this weekend is the fireworks-illuminated grand opening of the Museo Alameda Smithsonian. Somebody needs to buy Raygun & Andy Benavides some top dollar, imported beer…
7 Responses to "Monumental Drawing @ Blue Star"



In all fairness to Artpace, the organization (I would hope) has a larger purpose than as a soapbox or burn and churn machine.

I've always appreciated and admired Linda's vision and her support for contemporary art and artists. The larger and more complex an organization gets, the more that vision gets blurred, I think.

It's that damn "art scene" mentality.




Does anyone know of the truth and the details regarding a world's record number of mariachis all performing the same song at the Alameda opening on Friday?




Yeah, I'm not sure how serious you're being here, but it may be a bit hard on Artpace. Whatever your opinion of Kate's performance at Artpace (I've appreciated her work, but I don't have the context to form a meaningful judgment), it may be good for both her and Artpace to part ways. A friend of mine thinks that curators shouldn't stay at one institution for more than a few years, for the same reason that tenure seems to encourage calcification more than free thought.

It will be interesting to watch Artpace and Kate Green enter their next phases, just as SAMA is becoming a significant voice in the contemporary art scene. And if Blue Star gets is mojo back, all the better…




spokeNine: I don't know about that, but I just searched Guinnessworldrecords.com for "mariachi" and not a single record came up. Not one. However, I was able to locate a mighty big accordion and some absurdly long ear hairs.




I was visiting on First Friday and snapped some installation shots. Haven't labeled them yet so I don't know which work you're refering to.

Sorry Justin, I got to VTru at 8:16pm and found an empty gallery. It looked good through the window, though :\

on 13 Apr 2007 at 2:56 pm #

michelle




this observation of local institutions is simply documenting change,it's important to remember that these organizations are not sacrosanct.




True dat.
Leave a Reply