Posted by ben on 20 Apr 2009 at 11:46 am | Tagged as: architecture, arts organizations, celebrations, performance art, public art, r.i.p., video/film
When I was working on my first art review back in 2006, I saw a version of Edgar Arceneaux's video "Old Man Hill" at the Artpace potluck that launched his residency there. The residency project (which later wound up in the Whitney Biennial) wasn't as impressive as this simple homage to a man he never met: his father's father. Arceneaux spelled out the only thing he ever knew about this man — that he was called "Old Man Hill" — in silver balloons, which hovered over the war-torn hills of Sarajevo. One by one the balloons released and twisted toward the sky. The cameras followed the balloons wistfully, clinging to these insubstantial forms seeking oblivion. Occasionally the cameras cut to people going about their lives in the city below, people looking away from these hills with their burned out buildings and piles of rubble.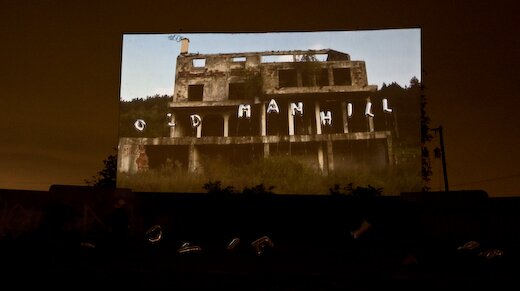 Linda Pace, who had not yet embarked on her battle with cancer, purchased this piece for her collection. Other than that potluck, the video had never been shown publicly; but before she died, Linda asked that it be screened at a special time, with the artist present. The Linda Pace Foundation arranged to screen the final version of this video for Linda's birthday, last Thursday. Arceneaux was flown in to stage a performance along with the screening. The site selected for the project was the Mission Drive-In, a once-popular drive-in theater now dilapidated, graffiti-strewn, and slated for destruction. (It will be replaced with a new public library).
The evening of the event was overcast, windy, threatening rain. We got there early, and wandered around the old drive-in, its pavement giving way to grass, but its screens still fully intact. One by one, silver balloons were filled up and placed in front of the main screen, spelling out words that were unfamiliar to us, apparently a translation of "Old Man Hill" into Serbian Bosnian.
The translation of words hinted at another translation: the bombed-out hills of Sarajevo where snipers once found cover were translated into a theater in San Antonio, equally desolate, undergoing a wholly other kind of violence. This isn't to equate the devestation of war to the disappearance of a drive-in, but to translate loss between cultures. Nearby the old theater, the Mission San Jose holds memories of a violence closer to that of Sarajevo: genocide, slavery, subjugation. But to most of us living in San Antonio today, the loss of place is felt more fully than the tragic, large-scale loss of life experienced by those who lived in Sarajevo in the 1990s or San Antonio in the 1700s. The slow erosion of the identities of our cities happens to be the kind of loss we are stuggling with now, the loss that we still don't quite know how to grapple with.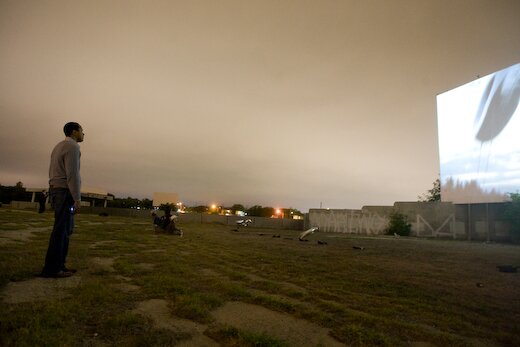 Eventually, as it grew dark, Arceneaux introduced the video, speaking of his search to learn something of his grandfather, a man neither he nor his father ever knew. This was a search to connect his identity to something larger, something more historically rooted. He spoke of his brief relationship with Linda Pace, who worked to create places in San Antonio that connect to what came before them: an old car dealership downtown becomes an artist residency space. This is the act of translating place — it doesn't make sense to have car dealerships downtown anymore, but these spaces can be translated into something that is meaningful today, that turns loss and emptiness into another kind of value.
The video started, and as we watched Old Man Hill float away into the hills of Sarajevo, we also watched indecipherable words from another place float away into the San Antonio night, sometimes brushing slightly against the aging screen. And even as they disappeared from view, these words became embued with meaning. This was the final screening at the Mission Drive-In.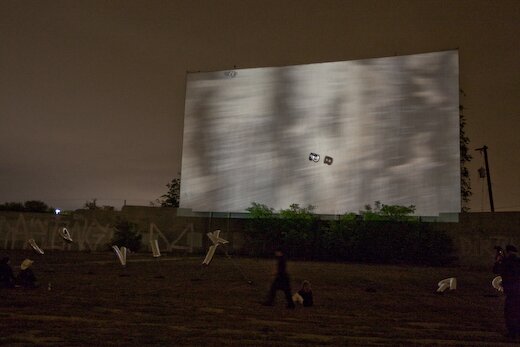 (Photos by Justin Parr, courtesy Linda Pace Foundation)
UPDATE: I'm honored to have Devin King respond to this in the second post on his new blog, Dancing Young Men From High Windows. Hopefully I'll have time to respond to his post soon, but in the meantime I'll point yall that way for an interesting reaction.

16 Responses to "Translating Loss"
Leave a Reply