Posted by ben on 21 Apr 2007 at 01:04 am | Tagged as: responses/reviews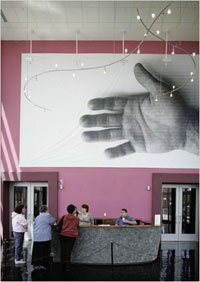 I made a second visit to the Museo Alameda today, planning on writing a little review. I hadn't seen anyone actually review the content of the exhibitions, with most commentary focusing on the political aspects of the enterprise (or worse, fights that broke out at the opening — we'll let the tabloids cover that topic…). But just now I noticed that Edward Rothstein has already done a pretty good job reviewing the exhibits for the New York Times (this is their second article on the museum). A lot of people I've talked to had the same questions: Laura Bush's purse? Quartz crystals? A satellite? What does this have to do with the Latino experience?
But I think there is something going on at the museum that could be pretty interesting if executed in a more cohesive way. There is a blend of ancient artifacts, cultural detritus, and contemporary art that is, in my experience, unique. If the curators of the museum were able to make more effective use of the Smithsonian collection (hint: Lady Bird Johnson's brooch doesn't help us understand Latino history), but also tie these artifacts to important contemporary work, it could play a role in educating us about the past but also make a positive contribution to the development of Latino culture today. The potential is there, but unfortunately, the first round of exhibits doesn't quite pull it off.
[Photo: Michael Stravato for The New York Times]
One Response to "Museo Alameda"
on 08 Feb 2009 at 8:37 am #




Look at history. Everything thing we have, every great achievement has come from the independent work of some independent mind. Every horror and destruction came from attempts to force men into a herd of brainless, soulless robots. Without personal rights, without personal ambition, without will, hope, or dignity. It is an ancient conflict. It has another name: "The individual against the collective"
Leave a Reply