Posted by ben on 16 Jun 2009 at 10:59 am | Tagged as: graffiti, politics
FryingPanFire posts images of street art from Tehran, made by pro-Mousavi activists (h/t Andrew Sullivan). This creature holds a green sign, like many of the protesters: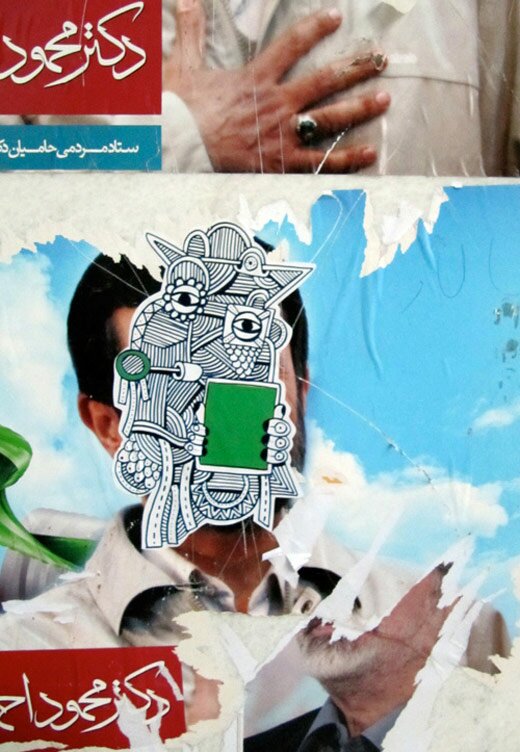 3 Responses to "The Revolution Will Be Wheatpasted"
on 16 Jun 2009 at 11:12 am #




Nautical Clichés

on 16 Jun 2009 at 11:22 am #




To the Rose upon the Rood of Time
Fergus and the Druid
Cuchulain's Fight with the Sea
The Rose of the World
The Rose of Peace
The Rose of Battle
A Faery Song
"The Lake Isle of Innisfree" (text)
A Cradle Song
The Pity of Love
The Sorrow of Love
When you are Old
The White Birds
A Dream of Death
The Countess Cathleen in Paradise
Who goes with Fergus?
The Man who Dreamed of Faeryland
The Dedication to a Book of Stories Selected from the Irish Novelists
The Lamentation of the Old Pensioner
The Ballad of Father Gilligan
The Two Trees
To Some I have Talked with by the Fire
To Ireland in the Coming Times

on 09 Aug 2009 at 9:48 am #




The intrepid ship sailors of the Netherlands launched vessels by the tens of thousands during the 1600s, and the Dutch artists were masters of the painted seascape at that time.
Leave a Reply