Posted by michelle on 30 Aug 2007 at 11:18 am | Tagged as: party photos, performance art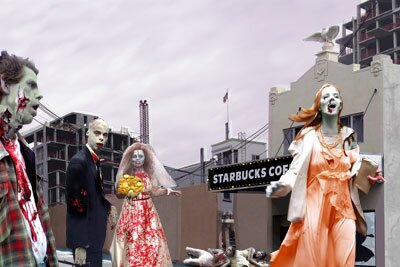 Why does this picture remind me of walking around Lora Reynolds Gallery in the construction-condo zone of downtown Austin? A recent lecture by Conrad Bakker proved once again that despite its location, Lora Reynolds always exhibits unusual and intriguing artists.
In other news, behold the best zombie portraiture ever taken by one prolific Jillian McDonald. She makes me love America, oh wait, she's Canadian. Seems like an apropos photo for the Katrina anniversary. Which reminds me, check out the latest New Yorker cover with a brilliant new work by silhouette connoisseur Kara Walker.
2 Responses to "Zombies & Condos"
on 23 Nov 2007 at 1:26 am #

perfect lips




on 25 Apr 2008 at 1:56 pm #




Michael Nesmith Cruisin'
Leave a Reply